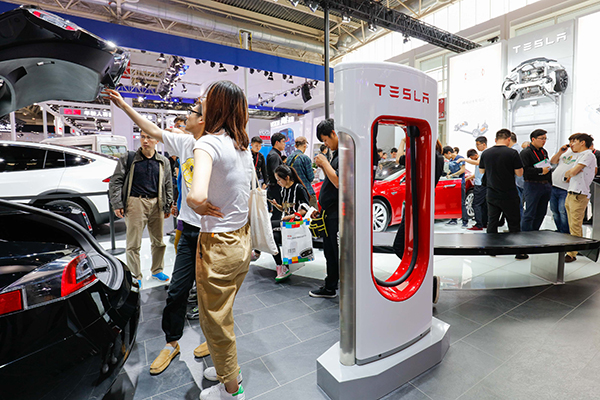 Tesla post stands beside a Tesla model during a recent auto fair in Beijing. [Photo/China Daily]
US electric-car maker Tesla Motors Inc is accelerating the rollout of its network of power-charging posts in China.
Its 100th "super charging station" opened in Beijing last week, the company's China head told China Daily.
"We will further increase the number of charging facilities this year in the regions of Beijing-Tianjin-Hebe Jingjinji, the Yangtze River Delta and the Pearl River Delta," said Zhu Xiaotong, general manager of Tesla China.
Currently, Tesla's charging network in China includes 404 "super chargers" in 96 "super charging stations" as well as about 1,300 charging posts, covering most areas in the Beijing-Tianjin-Hebei region, the Shanghai-Jiangsu-Zhejiang region, and the Guangzhou-Shenzhen-Hong Kong region.
"Our current charging network enables our customers to drive their cars from Shenzhen all the way to Harbin," Zhu said.
Tesla's super charger could fully charge a car in 40 to 50 minutes. A 20-minute charge could power an electric car to run 200 kilometers, said Duan Zhengzheng, senior public relations manager, Tesla China.
Tesla's charging posts take one hour to charge a car for a 60-80 kilometer range, she said.
But public power stations and posts just supplement charging at home that accounts for 95 percent of charging of Tesla cars, she said.
In April, Tesla joined hands with the China Quality Certification Center and announced that in future Tesla car-owners will be able to charge their cars not only at the firm's charging stations but CQCC-authenticated charging locations.
So far, two new-energy technology firms have been certified by the CQCC to produce charging posts under the new national standard.
One of them is Beijing Huashang Sanyou New Energy Technology Co, one of the country's major State-owned players in the segment of charging posts. The other firm is an electric car charging equipment maker from Shandong province.
Tesla car-owners will be able to charge their vehicles at locations operated by these two firms in future.
The CQCC is expected to authorize more companies to make e-car charging facilities.
In December, several government departments, including the Ministry of Industry and Information Technology and the CQCC, jointly issued a new national standard for charging electric vehicles, unifying e-car charging standard nationwide and enabling drivers of different brands of e-cars to share their charging facilities with each other.
The standard has been implemented at the beginning of this year.
"Although the new national standard has been issued, putting it to practice is still a challenge," said Robin Ren, vice-president of Tesla and president of its Asia-Pacific region, in April.