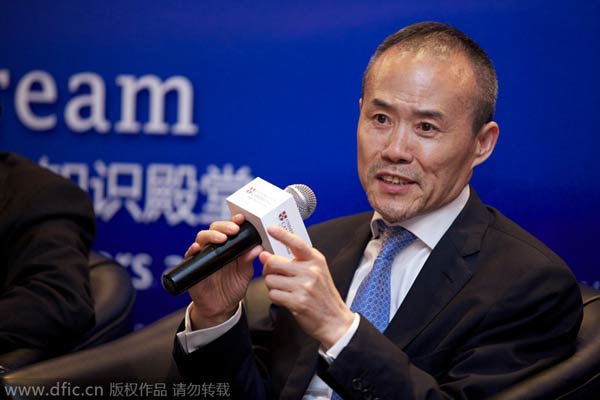 Wang Shi, Chairman of China Vanke Co Ltd, speaks at a summit in Shenzhen city, South China's Guangdong province, March 25, 2014.[Photo/IC]
China's biggest property company China Vanke Co Ltd said two major investors asked for a shareholder meeting to seek approval to remove founder and chairman Wang Shi and 11 other directors from the board.
Shenzhen Jushenghua Co Ltd and Foresea Life Insurance Co Ltd, holding an aggregate 24.29 percent of China Vanke's total issued share capital, requested the extraordinary general meeting, China Vanke said late Sunday in a filing to the Hong Kong bourse late on Sunday.
The board would respond within 10 days.
In March, China Vanke signed a deal worth up to $9.3 billion that could make subway operator Shenzhen Metro Group its biggest investor, intensifying a battle for control between Vanke's management and biggest current shareholder, financial conglomerate Baoneng.
China Vanke's second-biggest shareholder, China Resources Group, also increased its opposition to a planned purchase by China's biggest property company that would see it issue shares to a white knight, raising doubts whether the deal would go ahead.
China's securities regulator said on Friday that the stock exchange had started an inquiry into China Vanke's restructuring plan, and it was looking into details of Vanke's board meeting, and the function of independent directors.