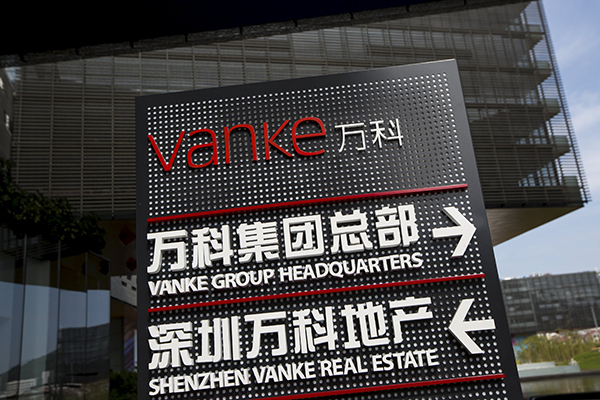 Signs show the direction of Vanke group headquarters and Shenzhen Vanke Real Estate at its headquarters in Shenzhen, south China's Guangdong province, Nov 2, 2015. [Photo/Agencies]
China Vanke Co Ltd, the country's biggest residential developer's proposal to acquire assets from Shenzhen Metro Group through new share sales is credit positive for the developer, global rating agency Moody's Investors Service said.
"From China Vanke's perspective, if the proposed acquisition goes through, then it will further strengthen its market position in Shenzhen through an expanded land bank, and it will also enlarge its equity base," Kaven Tsang, a senior credit officer at Moody's Investors Service, said in a research note.
"Furthermore, China Vanke will likely have more opportunities to participate in property projects alongside the railways operated by Shenzhen Metro Group," Tsang added.
But there is no immediate impact on China Vanke's Baa1 issuer rating or its stable outlook, the rating agency said.
Vanke has proposed a restructuring plan to buy assets worth about $6.9 billion from subway builder Shenzhen Metro Group Co Ltd by issuing additional new shares to the latter.
But the plan has met strong opposition from China Resources, the State-owned conglomerate that has been attempting to block the deal as it would significantly dilute its shareholding in the developer.
China Resources, the second-largest shareholder of Vanke, has questioned the legality of the proposal, claiming that the deal failed to win two-thirds majority votes from the board.
It also threatened to vote against the restructuring plan in a shareholders' meeting, which will be held in September.
If successful, the deal will make Shenzhen Metro the biggest shareholder of Vanke with a 20.26 percent stake. The shareholding of the current biggest shareholder Baoneng Group and its affiliates will be diluted to 19.27 percent, while China Resources' shareholding will be reduced to 12.1 percent, according to a stock exchange filing.