Xiaomi releases 4G network-enabled notebook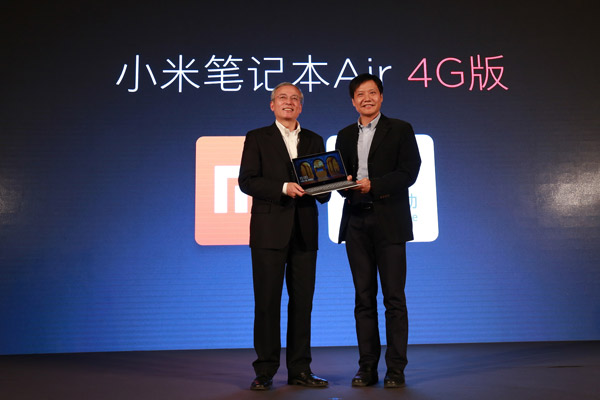 Xiaomi founder Lei Jun and China Mobile's Sha Yuejia pose at the launch ceremony of Mi Air 4G in Beijing, on Dec 23, 2016. [Photo provided to chinadaily.com.cn]
Xiaomi, the tech company that has gained worldwide fame with its smartphones, concluded its new product rollout on Friday in Beijing with a notebook, the Mi Air 4G, after a tough sales year.
Liu De, co-founder and vice president of Xiaomi, said this computer could be connected to the internet anytime, anywhere as there is a module enabling network service via an independent internet of things (IoT) 4G channel provided by China's largest telecom operator, China Mobile.
He said hopefully this device will usher in the third era of how a computer can be connected to the internet. In the first era, the computer could be linked to the internet via a cable and in the second era, via Wi-Fi.
The 12.5 inch version of the Mi Air 4G, whose configurations are the same as its predecessor, Mi Air, is priced at 4,699 yuan ($676), while the 13.3 inch version, which features a new processor, the Intel i7-6500 U, is priced at 6,999 yuan, said Liu.
Liu added that the internet service will be free during the first year but admitted that whether the service will be charged in future years is undecided.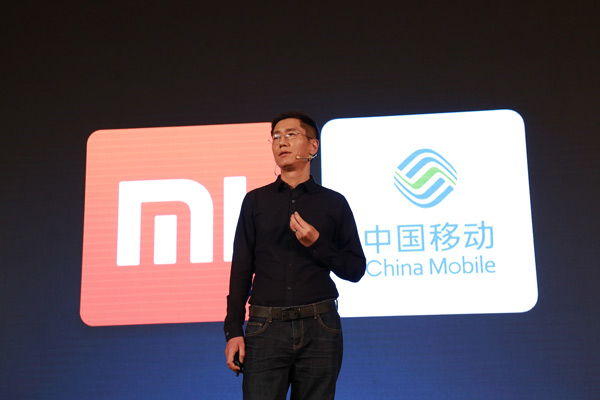 Liu De, co-founder and vice president of Xiaomi, speaks at the launch ceremony of Mi Air 4G in Beijing, on Dec 23, 2016. [Photo provided to chinadaily.com.cn]
Xiaomi launched its first PC product, the Mi Air on July 27 this year. Liu said that the company had sold 220,000 units of Mi Air in the first three months. Mi Air was also the best-selling PC on Tmall during the 24-hour Single's Day shopping festival created by Alibaba Group.
Liu said the Mi Air 4G, which is to be on sale in January 2017, will be exclusively available at the outlets of China Mobile, which has promised to sell 500,000 units for Xiaomi in the next year.
Jacky Zhao, an analyst with IDC China, a market research firm, said that the embedded high-speed internet service is a good feature but it is hard to tell how the market will react to the new product. This feature might not be that attractive in China's key cities where Wi-Fi services are convenient, although not that safe, the analyst said. If the Wi-Fi environment improves a lot, Mi Air 4G may not be as attractive.
Liu admitted that the Mi Air 4G's edge might not be that obvious in big cities but might be a must-have for civil servants in villages who are also university graduates.
Compared to Mi Air, which is priced at 3,499 yuan and 4,699 yuan according to different configurations, Mi Air 4G might also lose its edge in pricing, Zhao said.
But he added that Mi fans might be willing to accept the higher cost so this pricing strategy might be good for an image lift.
Zhao said he is not sure about the logic behind the distribution arrangement of the Mi Air 4G but believes this will enhance its offline presence.
The Mi Air 4G will enrich Xiaomi's overall product lineup, but it will be hard for Xiaomi to change the layout of the PC sector as it has done to the cell phone sector, Zhao said.
"Because the PC sector had been rather mature when Xiaomi entered but the cell phone sector was to face a tremendous change as the smartphone was to prevail," the analyst said.