Striking a chord in new headphone market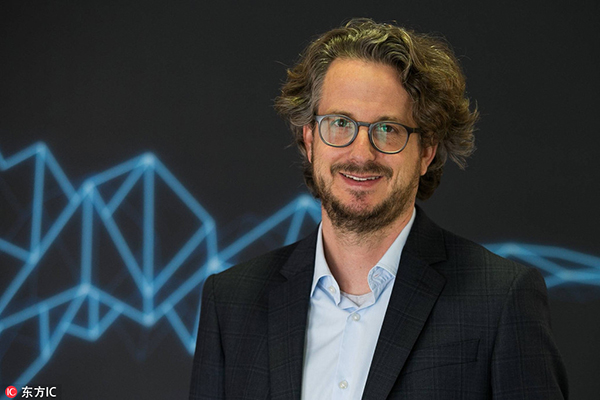 Daniel Sennheiser, CEO of Sennheiser Electronic GmbH & Co KG. [Photo/IC]
China will soon be the biggest customer of major audio system producer, says its chief
Daniel Sennheiser, chief executive officer of Sennheiser Electronic GmbH & Co KG, one of the world's biggest audio system producers by sales revenue, cannot stop thinking about how many lower-tier Chinese cities his products have yet to reach, every time he visits the country.
The German group has made plans to deploy more resources and manpower in the markets of China's provincial capitals and lower-tier cities. It wants to speed up promotions of its products next year, including headphones, as well as meeting and conference sound equipment.
"We all know about the frustrating quality of telephone conference calls and we have a lot of solutions," said Sennheiser, who traveled to China four times this year.
The CEO said that a typical Sennheiser user is usually one that knows a lot about audio equipment or is an audio professional. "In the professional audio world we have 100 percent brand awareness," he said.
He said for music stars such as Adele, Pink Flloyd, David Bowie and Robbie Williams, when they are singing on stage, a Sennheiser microphone is often the only thing between them and the audience.
China will be his company's biggest market very soon and there is a huge opportunity to improve the quality of its communications and business, he said.
Germany used to be the company's largest market, because that is where it is from, while later the United States became bigger and still later on the company found that its biggest growth rates are in China.
Recently, the German came to China to unveil Sennheiser's very first immersive Sound Studio at The Peninsula Hotel in Beijing, and spoke with China Daily about the company's strategy and his management style.
The following are edited excerpts from the interview:
How do you promote your business in China?
The best way of doing that is being very close to our customers, and Sennheiser has always operated that way. We need to understand what our customers' problems are and what their product needs are.
When it becomes more complicated, we bring in our engineers with all their knowledge, but we also use local partners and implementation partners, in order to arrive at a solution that is valid there.
Sennheiser needs to work with what we call local integrators to bring a complete package to companies which don't want to choose just a microphone, but want to choose a full solution for their conference room.
What is your biggest achievement as Sennheiser's CEO?
It's not so long since I became the CEO, so maybe it's very premature to talk about my achievement. Usually you talk about 'achievement' at the end of your life. My brother and I-already not very typical-are two brothers running Sennheiser together, both with the title of CEO. And what we provide is what the company needs: renewal.
And we really need to stay with very modern management methods at the top. We are also creating an organization where everybody needs to take responsibility. We've created an organization where everybody is empowered to do what is right for the company, which I think is the modern way of running a business.
What is the advantage of being a German family-owned company?
You are independent. You make your decisions based only on what you think is right for the customer. So we focus 100 percent of our time on science, on technology and on the customer. If we were not independent, we would need to discuss things. I would spend a lot of time with analysts, with banks, investors, with a lot of people-and in the end it doesn't help the product. Now I can spend a lot of time with my end consumers, in product development, and in thinking about strategy, which I think is better for the company.
How do you encourage your employees?
I think one thing that remains globally valid is strong vision and good products. It's as simple as that. If you have a strong vision and everybody knows where you want to go, you have good products that people are proud of.
Once our people are proud of our products, you don't need to motivate them. Because I don't think I can motivate anybody. They need to be motivated by themselves.
What I can do is make sure that the vision is clear, the strategy is clear and that they have the autonomy or the empowerment to make their own decisions.
How do you manage your innovation activities?
A total of 7 percent of our turnover is always going into research, so we do basic research based on several vectors that we define, like transducers and microphone technology, and so on. Once these are already at a certain level, it's like having a product innovation cycle that's iterative, with us taking things step by step.
What is your plan to develop smart audio products?
We do have quite a lot of wireless products in our range already and we are integrating them with apps. When you're able to control the headphones with your app, it allows for adaptive noise canceling where you can really alter levels to what you need. So you're in very intuitive way of interacting with the product.
We are working on solutions to become smarter about situational awareness, while enjoying your music.
How do you see the potential purchasing power of China's rising middle class in your long-term strategy?
The country has very professional broadcast organizations here, including Beijing Satellite TV and China Central Television, which are very innovative. We are working very closely with them. A lot of times we come up with new products and they try them out, as I said earlier. We are providing tools and they are finding new applications. Therefore, that for us was an entry to the Chinese market.
As China opened more to Western brands, we were already there and able to show our headphones, so we had a very strong market share in China for the small company that we are.
When Chinese consumers spend their money, especially the rising middle class, they want to know that it's well invested. So this is exactly why they turn to Sennheiser, because you are really getting value from their money.
Sennheiser seems to be less known compared with Bose and Beats. What is your business strategy in marketing and branding?
We are a successful company and we are growing, so I'm not so worried about market share, because market share comes and goes and there are so many players, especially with headphones, right now.
We don't focus so much on competitors. We actually focus on customers, because customers are getting better and better educated. There is always a part of the market which is really interested in what Sennheiser is offering, and we focus on that part of the market.
How do you spend your off-duty time?
I love to travel and spend time with my family. We have a house in France where we drink wine and enjoy life. It's rather important to calm down. When I sit at my piano, I immediately understand that I'm just a very small being within the big universe.
Where are your favorite travel destinations?
I love Asia and spend quite a lot of time in Asia. I love different cultures and have been traveling to Vietnam, Cambodia, China, Myanmar, Laos, Japan and South Korea. To a European initially they look similar, but actually they are very different. I love to get a deeper understanding of different cultures.
CV
Age: 43
Nationality: German
Career:
2013 onwards: Sennheiser Electronic GmbH & Co KG, CEO
2011-13: Member of the Executive Management Board, President of Strategy and Finance
2008-11: Director of strategic innovation
1999-2002: Various communications agencies in Munich and Zurich
Education:
Art Center College of Design in La-Tour-de-Peilz, Switzerland
Pasadena in California, the US
Family: Married with two children