Emerson to focus on four key areas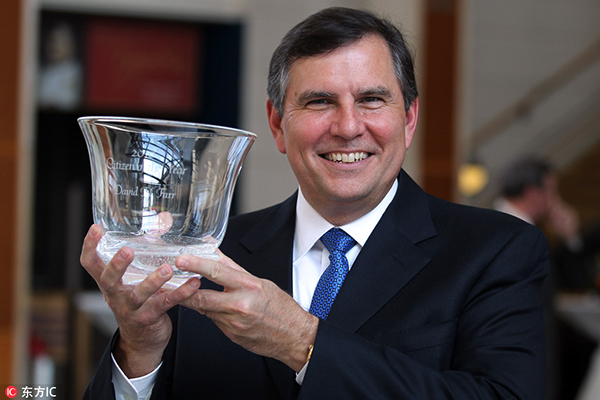 David Farr, Emerson's chief executive officer. [Photo provided to China Daily]
US tech and engineering major plans to input $30 million to ensure continued growth
Emerson, a global technology and engineering company based in St. Louis, Missouri of the United States, sees good opportunities in China's industrial automation and energy efficiency sectors, according to its top executive.
"In China, we'll be focusing on automation and a higher level of production quality, such as what's needed in the pharmaceutical industry and other process-driven manufacturing industries, which are expected to be big drivers for our long-term growth in China," said David Farr, Emerson's chief executive officer.
Farr listed four areas as having great potential for the company's growth in China.
First is the commercial and residential solutions business where Emerson has a presence in the form of its refrigeration, air conditioning and heating products.
"We have more efficient and cleaner products that go in to home heating. Our heat pump technology takes out coal-fired heating and replaces it with electrical heating. This kind of technological change is supported by the Chinese government," said Farr.
Second is the area of "cold chain", for food refrigeration where Emerson works with food processors, distributors and retailers in China to help them reduce food wastage and safeguard food quality.
Third is the pharmaceutical industry where Emerson offers control systems and automation equipment to help Chinese companies make drugs.
Fourth is the area of clean power generation equipment. "In today's world, what we see is a big focus on energy efficiency, sustainability and environmental issues around the world. So, we redirect a lot of resources along those lines," said Farr.
This year so far, Emerson's net global sales, including sales from discontinued operations, reached $20.2 billion, with China contributing around 10 percent of it, same as in 2015.
"We've been here for close to 35 years, and sometimes the economy goes up and sometimes it goes down, but we're very positive about the Chinese economy," said Farr.
Since 2002, China has been Emerson's second largest market next to the US.
"We are currently investing over $30 million in China to deepen our capabilities, upgrade and automate our production lines and accommodate future growth," said Farr.
In August, Emerson agreed to buy Pentair's valves and controls business for $3.15 billion in cash, broadening its focus on industrial automation.
The Pentair unit, based in Schaffhausen, Switzerland, serves customers across the chemical, power generation, mining and oil and gas industries.
Farr said that one of his top priorities in China is to expand the Pentair business. "We will be working to achieve a successful transformation of the Pentair business in China and take that business to a whole other, higher level of ability to engineer, produce and support for the Chinese market," said Farr.