Starbucks brews up big expansion plans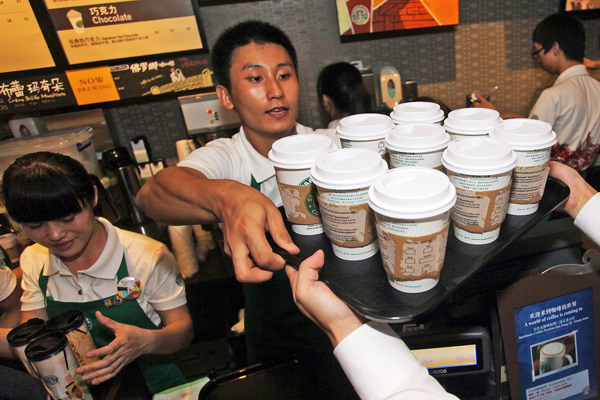 Employees serve customers at a Starbucks store in Fuzhou, Fujian province. ZHENG SHUAI/For China Daily
CEO believes the company's business in China will someday exceed that in US
Starbucks CEO Howard Schultz has made no bones about his ambition in China-to have one new Starbucks every day in China for the next five years.
What Schultz is also candid about, as a businessman, is how his ambition is going to be realized-through employees, or in the language of Starbucks, "partners".
"Starbucks, unlike most traditional consumer brands, has not built the company by traditional advertising. The brand has been defined by experience, and that experience is defined by our people-partners wearing green aprons," Schultz told China Daily, during his latest trip to Shanghai in late October.
Starbucks enjoys great success in China-more than 2,400 stores in over 110 cities throughout the past 17 years and supported by over 34,000 employees. The coffee scene of China, the world's potentially largest consumer market for the beverage, has also been radically changed.
Back in 1999 when the company first entered the Chinese mainland market, there was barely any competitor and few consumers could tell the difference between a latte and a mocha. Now, like many other industries, China is not only a fast rising consumer of the beverage, but also increasingly catching up with the trends and happenings. Specialty coffee is the most recent case.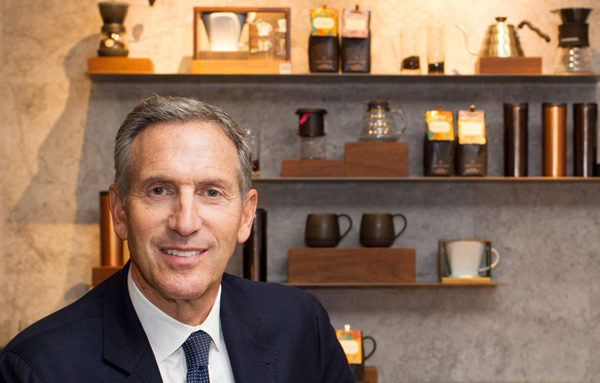 Howard Schultz, Starbucks CEO Provided to China Daily
"What we believe, as a company, is that China will one day probably surpass the size and scale of our business in the US," said Schultz.
Consultancy firm Euromonitor estimated that Starbucks had a 73.3 percent market share in China in 2015, compared to McCafe's (run by McDonald's) 9.3 percent and Costa Coffee's 9 percent.
"Any company that sells coffee can be a competitor. Not with any arrogance, but we have always tried to focus on ourselves and things we can control. And if we do that well, we will take care of the competition," said Schultz.
When asked if he thinks the Chinese coffee market would be any different if it were not Starbucks which entered the country back in 1999, he paused and said he doesn't think any other company would have been able to solidify the position that Starbucks has, "because I think we have done it in the right way".
Schultz said he believes that the key growth driver for Starbucks in China will still be traditional stores, despite the market's keen interest in new premium retail spaces-the Starbucks Reserve and Starbucks Roastery.