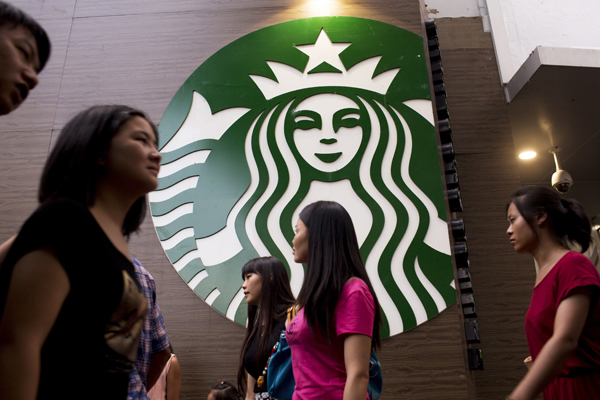 Pedestrians walk past a Starbucks Corp store in the Luohu district of Shenzhen. [Photo/Bloomberg]
Starbucks Coffee Co, the global leader in coffee chain stores, launched its Teavana brand in China on Tuesday to strengthen its tea offerings in the nation, with its strong tea-drinking culture.
In its debut, Starbucks Teavana will bring two new shaken iced tea beverages that were created specifically for the Chinese customer.
Starbucks operates about 300 Teavana branded stores in the United States and Canada, but there is no plan to expand them in China.
Belinda Wong, president of Starbucks China, said: "As we continue to deepen the reach of the Starbucks brand in China, our customers are increasingly asking us for new and different ways to experience tea. Just as we've done for coffee, Teavana is tea reimagined by Starbucks."
The two new Teavana shaken iced teas join the existing popular core tea beverages and the current whole-leaf tea sachets, which have been in Starbucks' stores for many years. They will become part of the Starbucks Teavana portfolio across all its more than 2200 stores in China.
"The launch of Starbucks Teavana in China and the Asia Pacific region brings an entirely new and modern tea experience specifically developed for our customers, who increasingly want new and different tastes and experiences," said John Culver, group president of Starbucks Global Retail.
Tea is a $125 billion global category and is the second most consumed beverage in the world, second only to water. The launch of StarbucksTeavana™ is the first time Starbucks has launched a brand on this scale since 2008 with the launch of Starbucks VIA Ready Brew, and represents an important growth opportunity for the business, according to the company.
In 2015, Starbucks' tea business in the United States grew by 12 percent, with all tea categories posting strong growth, led by iced tea at 29 percent. Building on this and the success of Teavana to date in other parts of the world, Starbucks aims to increase its global tea business to $3 billion over the next five years.
Starbucks acquired Teavana Holdings, Inc. in December 2012 and Teavana products will be available in stores across all its markets in China and the Asia Pacific region.
China's specialist coffee shops are increasing rapidly and are forecast by Euromonitor International to rise from 16,692 thousand in 2015 to 33,359 thousand in 2020. Coffee players are eyeing the growth potential in China, although there has not yet been any significant shift from tea to coffee beverages in this market.
"The key to marketing messages is to try and convince consumers that coffee players are here to add to the diversity of drinks, rather than asking the Chinese to replace tea with coffee," according to Euromonitor.
Last year, Liao Weijia, the daughter of China's so-called "Hotpot Queen", vowed to expand her chic teahouse chain NenLyuTea (meaning tender green tea) to 100 stores in three years with more than 100 million yuan ($15.6 million) in funding from Domking Holdings Ltd. Zhang Zetian, the newly wed wife of JD.com CEO Liu Qiangdong, is the main shareholder of Domking.