A global business thriving on people's love for art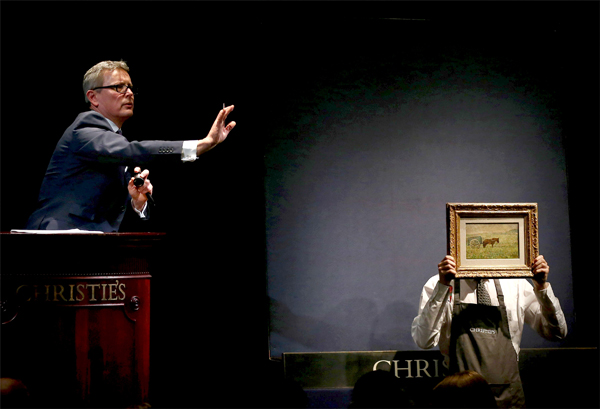 Jussi Pylkkanen, global president of Christie's, takes a bid for a painting by Georges Seurat entitled Attelage Rural during the Impressionist and Modern Evening Art Sale in February 2015 in London, England. [Photo / Agencies]
Top auctioneer says Chinese collectors playing a pivotal role in future market
Jussi Pylkkanen thinks himself more of an aficionado and part of the cultural landscape - that connects museums, foundations and art dealers from the four corners of the earth - than the president of Christie's, one of the two biggest international auction houses.
A fan of Chinese porcelain and England glass art works, the 53-year-old Pylkkanen, auctioneer at the center of the art world's biggest sales, believes China plays a pivotal role for the global market, as the Chinese continue to show ever-growing interest in art works and the fine art auction sales in China continue their inexorable rise of recent years.
Under his leadership, Christie's recently opened its new central Beijing flagship center, amid a continued expansion in China. It is Christie's second venue on the Chinese mainland after its Shanghai branch, which opened in 2014.
According to Pylkkanen, the auction house is continuing to grow and invest in here and the new Beijing space not only marks an important milestone during Christie's 250 year mission to connect art and collectors, but also illustrates the auction house's resolution to continue expansion in the country.
Pylkkanen recently spoke with China Daily about his China strategy, leadership and personal life. The following are edited excerpts of the interview.
Art collecting has been active and auctions have done well in China over the past few years as Chinese moguls have splashed out on masterworks. How do you describe Christie's business in China in recent years?
China is an absolutely critical part of the international art market today. Over the last three years since our Shanghai office opened we have witnessed a huge growth in interest from Chinese collectors, in all areas of the international art market in Hong Kong, New York, London, Geneva and elsewhere.
There is no question in years to come that the number of Chinese buyers - and also the interest shown by Western buyers in buying Chinese art - will grow very rapidly.
We have witnessed this before when we opened our business in North America in 1977. Quickly the US became a critical part of the market for us. For a London-based company we are also a multicultural company with very significant operations across the world.
How has Christie's expansion in China been going so far? What strategies will you adopt to expand your business in China?
We already have three exhibition bases in China, which I am very proud of: the one in Hong Kong which we have continuously developed over 30 years, a very historical location in Shanghai and the new space in Beijing.
We have exhibition spaces that no other business other than the local Chinese ones have. We are pleased to be the first Western company to have a broad, structured footprint in China and we will continuously grow.
Is there a leadership style that is particularly effective in China? And what is the proportion of Chinese and expats in your management team in China?
We are trying to make Chinese collectors comfortable to work with our business. We have opened many relationships over the past 250 years. We have strong resources and love to get very close to museums, collectors and young artists. It's a combination of the classical and the new here in China.
And Christie's gives collectors an international platform, which is very important.
The management team in China is 100 percent Chinese. We have a staff in China of almost fifty people. They are all from the Chinese mainland. We want to build a business, which is all about being in China and run by Chinese.
How hot is the competition that Christie's faces in China? What do you do and what have you done to distinguish Christie's from other competitors?
We don't see anybody working in the art market as being a competitor. We see them as part of the art landscape, that includes the museums, the foundations and the art dealers.
It's one big community of art and culture. The more people dealing with art and culture, the better. We are leading our business with a team of many creative minds.
What's your competitive edge in this community you described?
We have very high selling rates. We deliver what we promise. We like to do things well. Our exhibition spaces in Beijing brought out the exhibition on Pablo Picasso and other Chinese artists and when we opened the space in Shanghai in 2014 we did the same thing.
People know we take our responsibilities seriously. We make sure the culture of every nation and the art of every nation is well represented.
I'm currently on a tour visiting museums, collectors and foundations and looking for exhibition spaces, and with all of them we want to reach out to the community better.
What are the biggest achievements, opportunities and challenges for Christie's in China?
If we look at the commercial side, 28 percent of our buyers last year came from Asia, and 40 to 50 percent of those were from China. We sold around 6 or 7 billion dollars of art work last year.
It's a very healthy environment and many people want to create relationships with us. Some of them are buyers, some want to come and learn about the art market, and some come to the education courses provided by Christie's. In China we are launching a new education course with Yale University, based in Beijing.
As more Chinese moguls buy world famous artworks, do you think there's now a trend of art collections housing a major portion of the wealth in global assets?
People have been collecting art works for over two centuries. People have been collecting as a symbol of their wealth and their position for many years, hundreds of years, and it continues today. It's normal. It's part of a culture that we are all in.
Some compare China's current art collecting phenomenon with that of Japan in the mid '80s, when wealthy Japanese were chasing impressionist masterpieces. What do you think?
Japanese collectors have fantastic taste. They bought beautiful things and continue to buy beautiful pieces. The Chinese collectors are doing the same. There are sometimes financial ups and downs and I wouldn't call it a Japanese issue.
The Japanese are continuing to collect art pieces and the Chinese are now, too. The Chinese are just more recently in the market than the Japanese. The Japanese have had a long time of collecting.
Japan's economy subsequently went into deep recession due to the bursting of an asset bubble, and the art market followed. Will China experience a similar fate and how can it avoid that?
I don't think so. The Chinese economy is very strong. As long as the Chinese economy or any economy in the world is strong, there will be individuals able and wanting to collect works of art.
During your trips to China, is there a place that particularly impressed you?
0f all the places I have ever been to the Forbidden City is just incredible. I was able to go with our top specialist who showed me the wonderful pieces and porcelain in the museum. That was really a highlight for me. They are magnificent.
What are your hobbies? How do you spend your time off duty while in China?
I collect contemporary art from across the world. But I also collect art works like glass from my home country, England. It's very close to porcelain in China.
What's your favorite piece of artwork?
I love collecting art works and I'm a passionate collector of Scandinavian and modern British glass.
And one of my favorites is Modigliani's Nu Couch, Reclining Nude. In recent years we have created very meaningful relationships with collectors in China and the Long Museum in China bought it last year.
CV
Age: 53
Career:
2014 onwords: Christie's Global President
2010: Chairman of Christie's Europe
2005: President of Christie's Europe
1995: Director of the Impressionist and Modern Art Department
1990: Moved to Christie's Impressionist and Modern Art Department
1986: Joined Christie's as a specialist in the Old Master and Modern Print Department
Education: English Literature at Oxford University
Family: Married and living in London