A true story of how to achieve more with less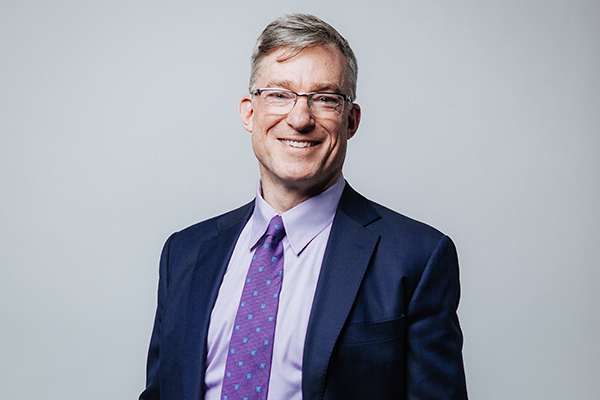 Blake Moret, Rockwell Automation's president and CEO. [Photo provided to China Daily]
The concept helps to improve productivity, sustainability and performance, while forging connections among people, production and technologies, says Rockwell Automation's chief
"Doing more with less" is Blake Moret's buzz-phrase. And, in his book, even in the age of cost-conscious corporates culture, "less" need not always mean fewer workers or a thinner wage bill-and "more" could very well mean more "indirect" jobs.
Moret, Rockwell Automation's president and CEO, and a mechanical engineer by training, is passionate about his vision for "Connected Enterprise", a concept or solution he believes can help people and enterprises to do more with less.
So, he is driving its acceleration through innovation, leveraging his in-depth knowledge of customers' business needs.
That knowledge is his by dint of decades of working with one of the world's largest industrial automation and information companies by market value.
Moret has 31 years of broad experience with Rockwell Automation, a leading provider of industrial automation power, control and information solutions for manufacturers including leadership roles in marketing, solutions, services and product groups. He assumed his current management role on July 1 this year.
"Doing more with less", in China's context, is to maximize the application of the "Connected Enterprise", so as to deliver the future today, he said. The idea is highly related to China's campaign to upgrade the manufacturing sector through its "Made in China 2025" and "Internet Plus" initiatives.
According to Moret, the Connected Enterprise solution will forge connections among people, production processes and technologies through information-sharing and internet connectivity.
This will, in turn, enable enterprises to significantly improve productivity, sustainability and performance.
The solution, based on synergized control and information structure, offers enterprises smarter, safer and more productive manufacturing environment.
During his frequent visits to China, Moret is often found in meeting rooms with clients, or at manufacturing sites, listening to customers' latest requirement and needs.
Recently, he spoke with China Daily about the company's strategy, business opportunities and prospects. The following are the edited excerpts from the interview:
What are the major changes China's manufacturers are facing amid cutting overcapacity and the 'Made in China 2025' campaign?
In the past, it was enough just to provide equipment that would enable greater capacity or to replace older equipment. But today, there must be additional values such as faster time-to-market, lower total cost of ownership, increased asset utilization, and better management of enterprise risk.
It's also important to note that rarely does a manufacturer make the change all at once. So they should have a step-by-step approach and be able to put a foundation in place that's future-proof, so that you can take advantage of additional new technology in the future.
Would you please give an example of these additional values?
In one example, We have provided additional value to a luxury automotive manufacturer where again it's not enough just to be able to provide the means for enabling additional capacity, but to be able to enable their made-to-order process.
In that example, keeping with principles of "Made in China 2025", we have applied information management software in concert with the basic control equipment, to be able to provide a higher level of productivity and decision-making support.
What's your take on the view that automation leads to job losses instead of creating the much-needed new jobs?
In today's worldwide competitive economy, manufacturers that want to remain relevant have to find ways to become more productive-there's no alternative.
Today, for traditional manufacturing, for every direct manufacturing job, there's estimated to be another half of a job that is required to support that process.
In smart manufacturing, the multiplier of additional jobs created is three or four additional indirect jobs that support that basic process. So, while there may be some reduction of the repetitive traditional labor on a factory floor, the overall employment for the most competitive manufacturers will actually go up because of those additional indirect jobs, and also because they themselves will be taking additional market share.
How can automation solutions help Chinese manufacturers to build up their overseas footprint?
Rockwell Automation can provide several valuable services and solutions in working with these manufacturers investing overseas, which are facing various challenges, including regulation and standards.
For example, introducing those manufacturers to our global partners, and conducting assessments of the readiness of the Chinese product in Chinese manufacturing operations for a given market, such as safety assessments to see if a given machinery will comply with the relevant country standards.
We can also enforce worldwide standards across multiple countries.
Has any Chinese manufacturer benefited from these solutions?
One example that I can provide is of a very large Chinese tire manufacturer who wishes to establish a plant in the United States.
We were able to work with that manufacturer to understand their requirements, because we've worked with them in China to introduce them to local sources of value in the state that they were moving to, and also to help acquaint them with some recent advances in tire-making information systems, that they'll apply to their new process.
How does Rockwell Automation seize the opportunities arising from smart manufacturing in China?
The rise of the middle class and the demand for additional consumer products will drive a lot of our growth.
The whole class of products that we refer to as "consumer products" is a very important focus area for the company for that very reason: for the increasing numbers of people that fit that classification, such as automobile buyers. Our capabilities for adding information management systems on top of basic control such as serialization and track-and-trace capabilities will be particularly important in the future to meet demands for flexibility, speed and quality.
We're working with not just consumer-based product companies like food and beverage where we're really strong like auto and tire, we're also working with companies that make doors for the metro and rail industry to help them integrate MES (manufacturing execution systems) in their facility.
What's your client portfolio in the China market? How do you localize your business in China?
China is the second-largest country market for Rockwell Automation.
Over the last five to 10 years, we've transitioned from where our business was 30 percent domestic and 70 percent multinationals, to current position with 70 percent of our business coming from domestic customers and 30 percent from MNCs.
We've double-digit market share in terms of programmable controllers. In general, our market share positions are highest in consumer and automotive and tire industries.
What are the latest requirements and demands you have heard from your clients' feedback?
One is to be able to continue to improve the output and the efficiency of those machines even after the initial machinery is delivered.
It is a new concept to be able to provide upgrades to that equipment, to be able to improve its effectiveness even after the initial delivery. And that's something that we're helping equipment manufacturers provide today. Another is the ability to remotely monitor that equipment.
So, to be able to reduce the amount of labor that is on the site physically, you have to have a deep understanding of the machinery. The use of remote monitoring techniques is becoming important in all industries that we serve.
What's your leadership style? What is your mantra?
It's results-oriented. I like to create simple plans and assemble a team of capable, empowered people who can execute on those plans.
CV
Age: 53
Nationality: US
Career:
2016: President and CEO, Rockwell Automation
2011-16: Senior vice-president, Control Products& Solutions
2007-11: Vice-President, Customer Support and Maintenance
2005-07: Director, Electronic Operator Inter-face Business
2002-05: Business Man-ager, Medium Voltage Drives
1985-2002: Joined Rock-well Automation, held various roles.
Education:
1985: Bachelor of Science in Mechanical Engineering, the Georgia Institute of Technology, Atlanta, Georgia, US.
Family:
Married with four children
Hobbies:
Mountaineering, hiking, skiing, cycling.