A 'commando' working on extra-high voltage cables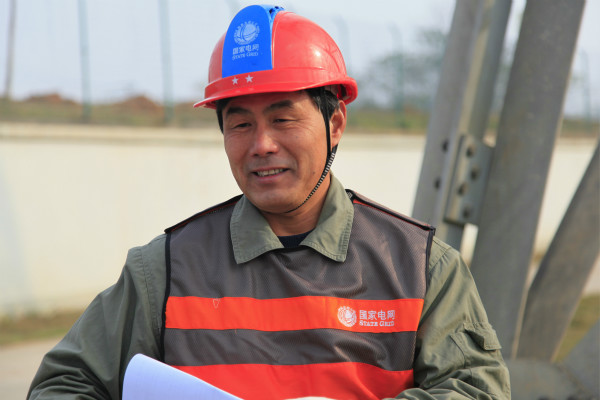 Yan Xudong works at a UHV AC Test Base of SGCC in Wuhan, capital of Central China's Hubei province, on November 30, 2016. [Photo by Zhu Lingqing/chinadaily.com.cn]
Yan Xudong, a 54-year-old electric power operator, has lost count of how many times he has climbed up transmission towers at least 40 meters above the ground to work on ultra-high-voltage (UHV) electricity cables since he began working 35 years ago.
Ordinary people may find the regular commercial power of 220 volts frightening enough, but Yan needs to deal with cables carrying ultra-high-voltage or extra-high-voltage (EHV) electricity every day to fix their malfunctioning.
"What I still remember are the anxiety and excitement when I was asked to practice live working on a 500 KV AC line for the first time," Yan said.
It was in 1982, when China's first 500 KV transmission line was put into operation in Hubei province.
"On the top of the tower, despite nervousness, I actually had no time to hesitate. More determined, more secure and remembering more quickly, I reached the trouble spot and completed the work as fast as I could," Yan added.
That operation made Yan the first Chinese to complete live working on a 500 KV AC line. It is regarded as a great honor in the industry, but Yan, starting his career as an ordinary maintenance worker at Hubei Electric Power Overhauling Company subordinated to State Grid Corporation of China (SGCC), has achieved more than that.
The patented inventions, scientific and technological achievements and innovative techniques invented by him could fill a few pages, of which some even have filled technical gaps of the industry in China and the world.