Standalone VR goggles expected to boom in China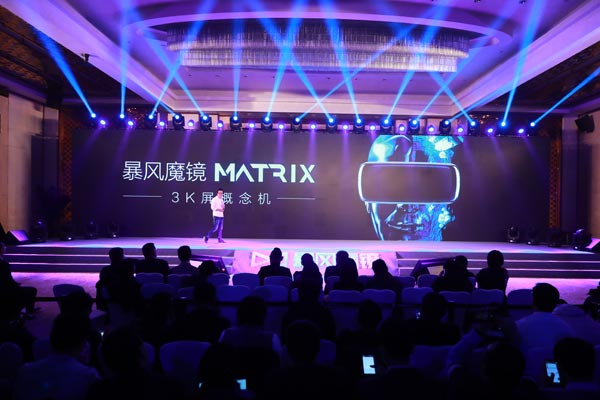 Huang Xiaojie, CEO of Baofeng Mojing, delivers a keynote speech on Dec 20, 2016, during the launch event for the company's new products in Beijing. [Photo provided to chinadaily.com.cn]
A domestic virtual reality (VR) hardware manufacturer launched a brand new standalone head mount display (HMD), further stimulating the segment market already in full swing.
On Tuesday, Baofeng Mojing, the VR arm of the Baofeng Technology Co Ltd, unveiled the "Matrix" -- VR goggles equipped with 3K resolution built-in display.
The company claimed the HMD device is the lightest gadget that hit the market among the same category of products.
Feng Xin, CEO of Baofeng, said at the product's launch ceremony that the device fulfills the three major pain points of the VR device for consumers, which are the demand for higher definition, lighter weight and decrease of feeling faint.
The device was priced at 2,499 yuan ($360), and the company said one hundred early-adaptors will be selected and will receive the products for hands-on trial, with purchasing at a discount price of 1,999 yuan.
No specific dates for the publicly shipment were announced during the event.
The industry witnessed an investment shrink when fierce homogeneous competition appeared in the market this year.
More companies are forced to curtail the R&D process or even went bankrupt due to suffocated fundraising.
Baofeng Mojing cut down 50 of its headcount and about 100 employees, who are specialized in content building, were shifted to new established VR subsidiaries.
"We're hoping to become a dominator in the market to promote the industry from winter to a vibrant spring," said Feng. "VR will become commercialized and major vendors in the market will be making profits by 2017 to 2018."
He elaborated that VR will be massively exploited and implemented in industries such as tourism, education, automobile, real estate and sports in the next two years and standalone HMDs will become one of the next bestsellers.
"Domestic vendors, such as Xiaomi and Huawei, as well as major domestic internet companies and global players, like Facebook, will all be eager to participate and aim to grab a piece of the market shares," Feng added.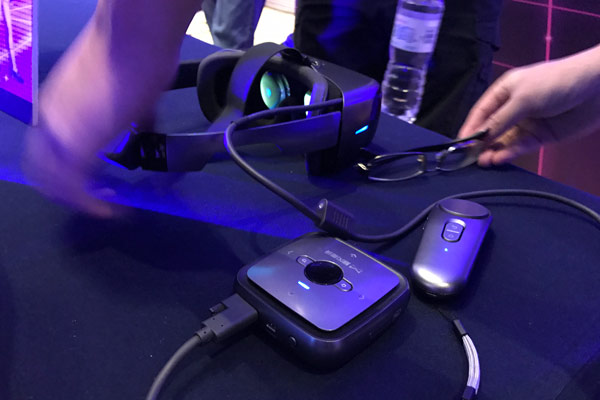 Baofeng's Matrix, a standalone HMD and its accessories are displayed on Dec 20, 2016, during the product launch event held in Beijing. [Photo by Liu Zheng/chinadaily.com.cn]
The existing consumer VR devices sold on the market include three major categories - Google's Cardboard-like mobile VR, all-in-one, or known as standalone HMD, and PC or game console driven goggles, such as HTC Vive or Sony PSVR.
Many Chinese vendors tend to invest in the first two categories, and similar to Baofeng Mojing, DeePoon, Pico, 3Glasses, 3Dinlfe and Lingvr have all unveiled standalone HMDs in recent years.
Neo Zheng, a research manager of client system research at International Data Corporation (IDC) told chinadaily.com.cn that according to the market analysis data monitored by the company, the shipments of VR devices in China is seen continually rising, and the technology bottlenecks, such as processing performance and battery life will restrain new vendors who are keen on investing in the standalone HMD market.
"But we're optimistic about the market boom in the mid- and low- end market as upstream manufacturers, such as, Intel and Qualcomm launch more powerful chips and mobile solutions," said Zheng.
Julian Tan, an analyst at the industry consulting company GfK China also said that the standalone HMD market will see a certain amount of increase next year.
"More time should be given to make breakthroughs in the core technologies and consumer education in the segment market," she added.
Another domestic vendor DeePon has announced it will start crowd-funding on Friday for its latest all-in-one VR device on Taobao.
Latest statistics from IDC show that the worldwide VR headset shipments will reach 10.1 million units, and by 2020, the volume is expected to achieve 61 million, with a compound annual growth rate (CAGR) of 100.7 percent.
Tom Mainelli, IDC's program vice president of Devices & AR/VR, said, "This year we saw major VR product launches from key players such as Oculus, HTC, Sony, Samsung, and Google. In the next 12 months, we'll see a growing number of hardware vendors enter the space with products that cover the gamut from simple screen less viewers to tethered HMDs to standalone HMDs."
According to industry consultancy iResearch Consulting Group, China's VR market revenues are expected to top 5.6 billion yuan this year, up from 1.5 billion yuan in 2015, and will reach 55 billion yuan by 2020.