Xiaomi shocks the market with a 'future' smartphone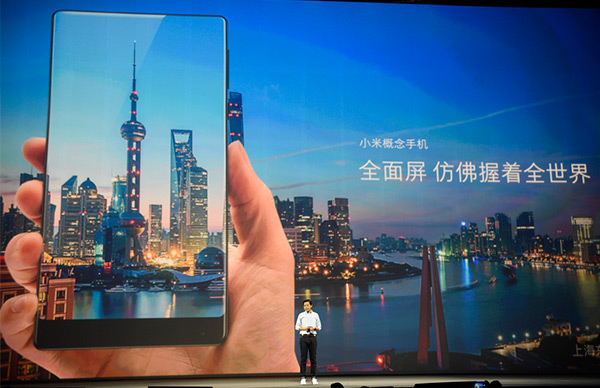 Lei Jun, founder and CEO of Xiaomi, introduces the Mi Mix to the audience attending the company's new product launch ceremony held  in Beijing on Oct 25, 2016.[Photo/VCG]
China's tech firm Xiaomi has created a big bang industry-wide as the company unexpectedly unveiled a concept smartphone in Beijing Tuesday, showcasing its vision of what a future phone would be like and its ambition in bringing thrilling and touching products to its fans.
The 6.4-inch handset, called Mi Mix, which represents Xiaomi and indefinite possibilities, features a display screen which accounts for 91.3 percent of the whole area of the all-ceramics phone body.
To achieve this, engineers tried many times and finally succeeded in removing the earphone and the distance sensor and only reserved the front camera as video conferences would be a must for many, placing it at the bottom part of the phone body, Lei Jun, founder and CEO of Xiaomi and also one of the engineers of Mi Mix, said to the audience attending the Mi Note 2 smartphone launch ceremony held earlier the same afternoon.
Di Jin, a research manager with IDC China, called this move of Xiaomi really smart because as far as she knows many phone vendors, including Huawei, have spent a lot in enlarging the screen-to-body ratio to the limit, but only Xiaomi has succeeded in doing this and showed the world that it can do it.
"Even if other vendors master these technologies later, they will be called followers," said Jin, adding that Xiaomi wins this time although it might only be one step faster.
Lei said earlier this year that visionary prediction was needed for the smartphone sector as more and more products looked the same and announced that the company would explore black technologies, which could be far more advanced than those of the real world.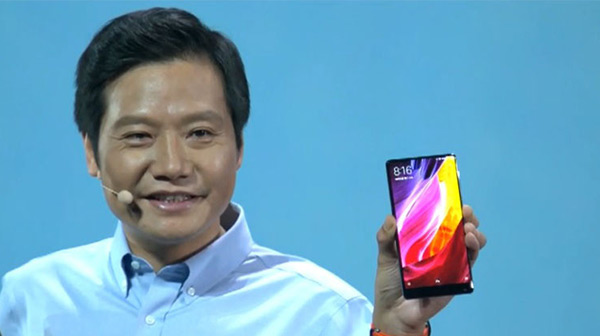 Lei Jun, founder and CEO of Xiaomi, shows the Mi Mix to the audience attending the company's new product launch ceremony held in Beijing on Oct 25, 2016.[Photo/IC]
"The Mi Mix shows that Xiaomi has been doing research and development in a down-to-earth manner and can enhance people's good will toward this company and further differentiate the company from its peers," said the analyst with IDC China, "but one smartphone is not enough for Xiaomi to become a truly premium brand."
"Xiaomi needs to make key technologies breakthroughs, such as in the area of wireless charging and artificial intelligence and this will take years and years of accumulation," she said.
Jin noted that Mi Mix has succeeded in arousing people's enthusiasm to buy as it is really rare but its influence on Xiaomi's future products are hard to tell as even Lei Jun called it a concept smartphone.
Lei said during the launch event of Mi Mix that devices with 4G RAM and 128G ROM and with 6G RAM and 256 G ROM will sell at 3,499 yuan and 3,999 yuan respectively starting Nov 4.
"But the number of Mi Mix is really limited because the cost is too high and we could not mass produce it, " said Lei.