Xiaomi wants a piece of premium phone market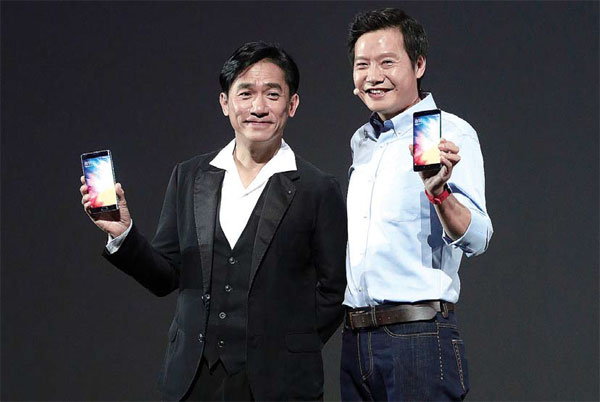 Actor Tony Leung Chiu Wai (left) and Lei Jun, founder and CEO of Xiaomi Corp, show off Mi Note 2 smartphones with curved screens in Beijing on Oct 25. Feng Yongbin / China Daily
Xiaomi Corp unveiled its first lineup of above-3,000 yuan ($440; 405 euros; 360) handsets on Oct 25, targeting businesspeople and tech-savvy consumers, as the smartphone maker moves to crack a premium segment suddenly full of opportunity in the wake of Samsung Electronics Co's smartphone recall crisis.
The Mi Note 2 comes with a 5.7-inch curvy display, a feature seen in Samsung's flagship handsets. It signals an important shift in the company's strategy of offering young consumers affordable smartphones.
The phone is equipped with a 22.56-megapixel rear camera, better than many rival products. The phone starts at 2,799 yuan, with 64-gigabytes of storage. Versions with more capacity go beyond 3,200 yuan.
"We have already reshaped the smartphone industry by offering quality smartphones at affordable prices," says Lei Jun, founder and CEO of Xiaomi. "In the future, we will revolutionize the industry by pushing the envelope of technologies."
The move came after Samsung recalled its newly launched Galaxy Note 7 after numerous battery explosions, giving Chinese firms a good opportunity to enter into the high-end smartphone sector.
At the product launch in Beijing, Xiaomi also unveiled a concept phone called MIX, whose display features a 91.3 percent screen-to-body ratio, arguably the highest of any smartphone.
One analyst said the signs were good for the product.
"MIX is quite impressive and demonstrates that Xiaomi is in a leading position to experiment with new technologies," says Jin Di, research manager at International Data Corp China. "But it takes a long time for a company to really enter into the high-end market."
To rebrand its corporate image, Xiaomi hired Hong Kong actor Tony Leung Chiu Wai to endorse the flagship Galaxy Note 2 phone.
Xiaomi is working hard to halt tumbling smartphone sales, as the Beijing-based company faces mounting competition from rivals such as Huawei Technologies Co and Oppo Electronics Corp.
James Yan, research director at Counterpoint Technology Market Research, says the two new phones were beyond his expectations.
"Xiaomi has been at a low for a year. The two models can give a big boost to its brand image and rekindle many consumers' love for Xiaomi," Yan says.
masi@chinadaily.com.cn