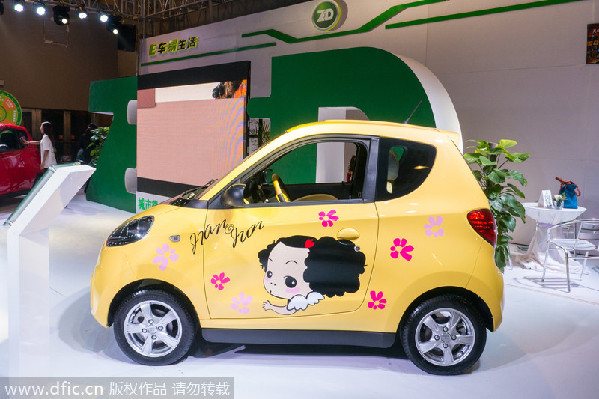 A Zoytye Zhidou E20 EV is seen on display during the 12th China (Guangzhou) International Automobile Exhibition, known as Auto Guangzhou 2014, in South China's Guangdong province, Nov 20, 2014. [Photo / IC]
Geely Auto has joined hands with Taizhou Xindayang Group Co to produce an electric passenger car model ZD in Gansu province, and is set to roll off the joint venture's first car on Sunday.
The joint venture will focus on a fully electric urban mini-car, and develop and manufacture electric vehicles for the nation, Geely Auto said in an email to the reporter.
Taizhou Xindayang Group Co, which built its reputation as an electric bike company, is currently working with Zotye Auto in Zhejiang province manufacturing a ZD two-seater model as tiny as 2,765 mm in length.
The current ZD Zhidou E20 EV model has a manufacturer suggested retail price of 108,800 yuan ($17,800). This price, the lowest among fully-electric cars for sale, make it the most affordable for Chinese people. And the customer will be eligible to receive a national subsidy of 33,250 yuan.
Zhejiang Geely Holding Group spokesman Yang Xueliang said earlier that the small-sized, energy efficient mid-to-short-driving-range electric cars are a better fit for the Chinese market, according to eeo.com.cn.