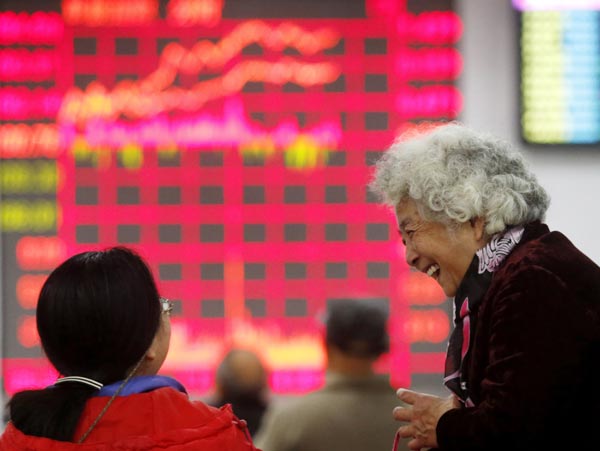 An investor views a computer screen showing stock information at a brokerage in Shanghai on Monday, when stocks in China surged to their highest close in five years, led by property and energy shares. [Photo/Xinhua]
China's A-share market began 2015 with its best start for 22 years on Monday, led by energy and property shares as investors remained confident that the leadership will do more to fuel economic growth.
The Shanghai Composite Index rose by 3.6 percent to close at 3,350.52, its highest level since Aug 6, 2009. Turnover soared to 549.8 billion yuan ($88.7 billion), up from 432.3 billion yuan on the last trading day of 2014.
In addition to expectations of more interest rate cuts, which would inject more liquidity into the equity market, a series of fresh positive signs lifted investor sentiment.
PetroChina Co surged by 10 percent to lead a gauge of energy shares to the biggest advance since 2008.
China Vanke Co soared by 7.3 percent and Poly Real Estate Group Co by 10 percent after the government loosened mortgage requirements for first-time home-buyers.
Daqin Railway, which operates China's biggest coal transportation network, rose by 5.1 percent, while Guangshen Railway Co gained by 5.3 percent as China canceled price controls on railway bulk cargo, packages and privately invested cargo.
Hong Kong Exchanges & Clearing rose by 2.7 percent in Hong Kong as Premier Li Keqiang said on a trip to Shenzhen that a stock connect program should be set up between Shenzhen and Hong Kong.
According to CIMB Securities in Hong Kong, government stimulus measures, including a possible further interest rate cut and a mortgage rate reduction, will help China's property market to recover, boosting stocks.
Catherine Cheung, head of investment strategy and research at Citibank Global Consumer Banking, said, "We expect liquidity will be ample... with the central bank poised for another two rate cuts and a reserve requirement ratio cut, which offers support to the A-share market."
Insurance companies and property firms will be the direct beneficiaries, she added.
China's A-share market has been the world's most stunning performer since late 2014. The Shanghai Composite Index soared by 53percent in the past year, and many investors believe the momentum will continue in 2015.
CICC analysts, led by Wang Hanfeng, wrote in a report, "Looking into 2015, we believe that monetary policy easing will likely help to address the symptoms of cyclical problems facing the Chinese economy, while fully fledged reform will probably solve its structural problem gradually.
"Market sentiment is positive for large-cap stocks," the report added, recommending interest-rate-sensitive industries such as real estate.
In Hong Kong, the Hang Seng Index fell by 0.6 percent. The Hang Seng China Enterprises Index slid by 0.3 percent after rallying by 2.2 percent on Friday.
Shares in Shanghai are valued at about 12 times estimated earnings after surging by 34 percent in the past two months, according to a report of Bloomberg.
Some analysts said that data suggest the rally in Shanghai may see a pause, while others said now is a good opportunity to buy H shares, given the discounted prices.