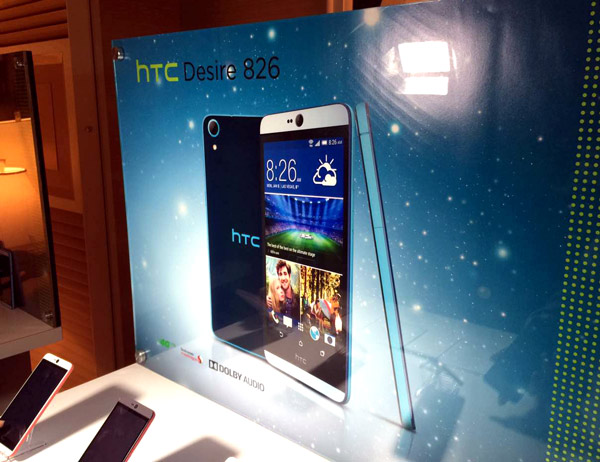 An HTC Desire 826 poster displayed at the press room in Las Vegas, Nevada, on January 6, 2015. The new smartphone was announced one day ahead of the International CES 2015. [Eric Jou/chinadaily.com.cn]
Taiwan smartphone maker HTC launched its latest smartphone from its Desire line, the Desire 826, at the International Consumer Electronics Show in Las Vegas.
Before the start of the International CES, the tech company announced its renewed focus on user experience with Desire 826.
The phone is equipped with a new centered "Ultrapixel" front-facing camera. Ultrapixels, similar to megapixels, are a unit of measurement for light and color in photography. The bigger the pixel, the more light is absorbed and clearer and better is the image.
"The philosophy was to build a smartphone that represents and portrays the 'best of me', the user," said Darren Sung, HTC global product manager.
According to Sung, more people are taking self-portraits or "selfies", and that the new Ultrapixel camera on the Desire 826 will allow for better selfie-taking.
HTC's focus in 2014 was to create a new flagship for the Desire products line, once one of the most popular smartphone lines, said Sung. He added that the predecessor unit, the Desire 816, was one of HTC's best-selling smartphones in 2014, with the HTC One M8 enjoying the top rank.
HTC went through rough financial times in the past three years, but it turned profitable in the third quarter of 2014.
With the launch of the new smartphone, HTC seems to be eyeing the Indian market.
The Desire 826 is due out in the Greater China Region by end of January and the pricing is to be determined.
The smartphone is equipped with an eight core 64-bit processor, dual tone polycarbonate unibody design, an Ultrapixel front-facing camera, 13 megapixel rear camera and HTC's front-facing Boom sound speakers.
On top of the front camera, HTC also showcased their new speaker system. The boom sound system is now integrated with Dolby technology.
The addition of both the camera and the new Dolby technology, Sung said, makes the Desire 826, "Home entertainment on the go and in your pocket."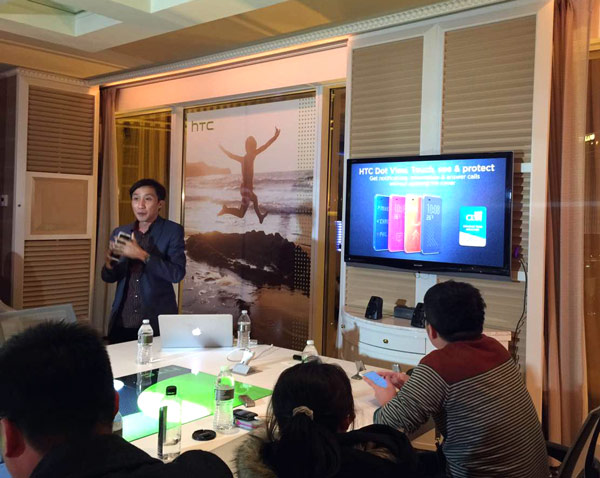 Darren Sung, HTC global product manager, introduces newly debut HTC Desire 826 to media at the press room in Las Vegas, Nevada, on January 6, 2015. The new smartphone was announced one day ahead of the International CES 2015. [Eric Jou/chinadaily.com.cn]