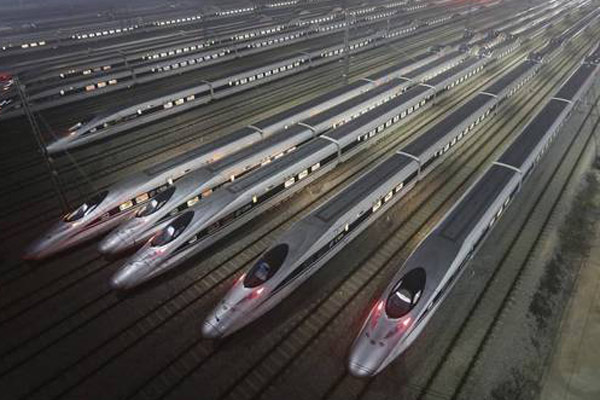 CRH380 (China Railway High-speed) Harmony bullet trains are seen at a high-speed train maintenance base in Wuhan, Hubei province, early Dec 25, 2012. [Photo / Agencies]
Mexico plans to announce the preliminary terms of tender for the reopened $3.75 billion high-speed railway contract on Jan 14, after abruptly canceling the bid won by a Chinese company in November.
Traffic transportation ministry said on Sunday that the new bidding invitation would be similar to the previous one, and the entire project would keep the one-stop package. The project requires the bid winner to be capable of securing the complete operation function and safety of the trains, at the same time accept the trial operation maintenance for five years, according to China News.
The reopened bid invitation has an announcement period of 180 days in order to leave enough preparation time for potential bidders. The government statement noted that a supervisor will examine the entire process to guarantee complete transparency and legal rights right from the start.
The government said China Railway Construction Corp (CRCC) would once again enter the bid, despite the company expressing astonishment earlier about the breach. People at CRCC close to the mater said in case they fail to win the bid, the company may claim compensation for the withdrawal of the earlier bid.
French group Alstom and Canada's Bombardier are also reportedly planning to enter the new bid.
Building a track record of success
China Daily is releasing a series of reports focusing on those who are devoted to development at the grassroots level.
China's railway construction companies have been among the mainstays of the country's investment-dominated economy for the past two decades, but the domestic market is no longer as central to them as it used to be.
With large parts of the world now anxious to improve regional connectivity and transportation infrastructure to link with new growth markets, Chinese rail construction contractors such as China Railway Construction Corp and China Railway Group are increasingly deploying their resources and money to both emerging and developed markets to grab their piece of the action.