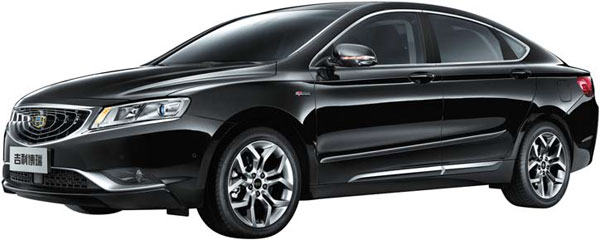 Geely GC9 [Photo provided to chinadaily.com.cn]
Zhejiang Geely Holding Group Co Ltd released its new flagship model, the GC9, with the Chinese name Borui last week in Beijing.
The top-of-the-line sedan, which drew on the KC Concept unveiled in 2013, was considered a milestone model in the company's history and represents the brand's future development, said Geely.
Peter Horbury, a former Volvo designer who was named chief designer at Geely in 2012, led the GC9's design.
Geely said the car was designed to look powerful yet agile and sources of inspiration included fighter jets, super cars and even cheetahs at full gallop. The GC9's "light yet elegant interior" draws inspiration from stone bridges and Chinese heritage, according to the automaker.
It comes equipped with double wishbone high-end suspension adjusted by automotive technology company Prodrive's Australia office, to create a stable, reliable and quiet driving experience. The GC9 has a 1.8T GDI engine and 3.5L V6 high-efficiency all aluminum engine, as well as a six-speed direct shift gearbox provided by Australia's transmission producer DSI, which was acquired by Geely in 2009.
"The research and development of the GC9 was combined teamwork by designers, suppliers and technologies globally. It translates Geely's technology capability and future product trends, and indicates a promotion of Geely's brand image to the higher end," said Feng Qingfeng, vice-president of Geely.