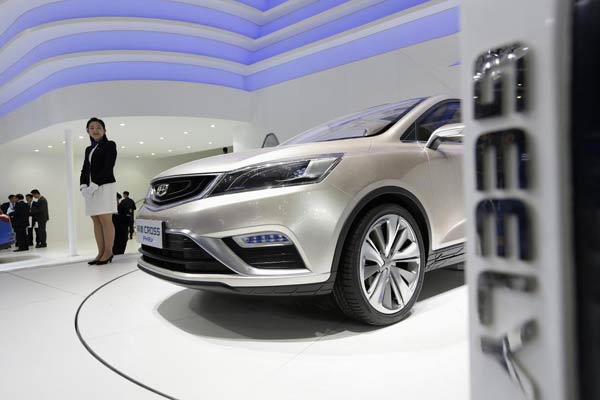 A Geely EC Cross concept car is displayed at Auto China 2014 in Beijing, April 20, 2014. [Photo/Agencies] 
Geely Autmobile Holdings Ltd expects its net profit in 2014 to roughly halve due to foreign exchange losses from its operations in Russia and a sharp fall in sales in its major export markets, the Chinese carmaker said on Tuesday.
Geely, whose parent Zhejiang Geely Holding Group Co bought Volvo Car Group in 2010, expects its 2014 net profit to fall by about 50 percent from 2.66 billion yuan ($429.79 million) in 2013, it said in a statement on the Hong Kong stock exchange.
"In terms of the Russian operations, the group has started to restructure its Russian operations with an aim to reduce its financial risks in the country," said Geely, which is due to report its 2014 results in March 2015.
"Further, the group has started to increase the retail selling prices of its vehicle models in Russia, hoping to offset the depreciation of Russian rouble against US dollar and renminbi."
Geely also blamed the steep profit fall on a 26 percent decline in sales volume in from January to November, which were exacerbated by a 49 percent drop in export sales volume and a reshuffling of its China sales and market operations.
On Tuesday, the rouble recorded its worst fall since the Russian financial crisis in 1998, with President Vladimir Putin blaming the losses on falling oil prices and speculators from the West.
Market confidence in the central bank evaporated after an ineffectual overnight rate hike, causing the rouble to weaken beyond 80 roubles per dollar and 100 roubles per euro for the first time.