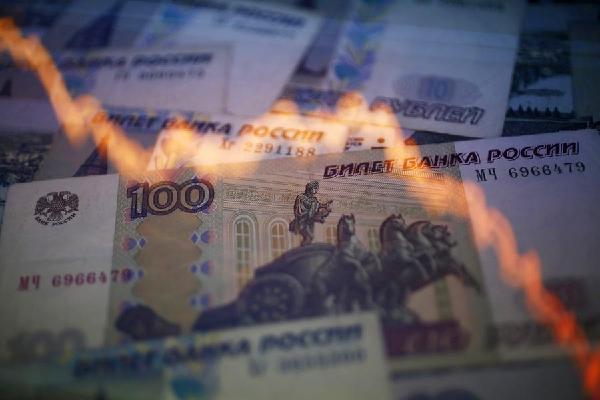 A reflection of a yearly chart of US dollars and Russian roubles are seen on rouble notes in this photo illustration taken in Warsaw Nov 7, 2014. [Photo / Agencies]
Views diverge over how rouble's fall will play out and affect emerging markets, including China, as the Russian currency plunged to an all-time low.
The impact may include "slowdown on the opening-up of China's capital account and restraint on its rate cut," said Zhang Ming, deputy director of International Finance Institute at Chinese Academy of Social Science, on Wednesday in a report, adding that it still remains to be seen as to whether the depreciation will trigger a financial crisis in Russia.
The rouble has plummeted 14 percent this week and 27 percent this month to a record low, according to Bloomberg, as panic swept across Moscow's financial market before it rebounded after Economy Minister Alexei Ulyukayev denied speculation that the government would impose restrictions to stop Russians from converting cash into US dollars.
The currency ended on Tuesday at 67.9, down 5.4 percent, while Russian bond and stock market tumbled.
Xie Yaxuan, head of macroeconomic research at China Merchants Securities, said to chinadaily.com.cn that the panic sentiment due to the plunge will "inevitably spread" and may cause capital outflow from emerging markets.
The ripple effect of rouble's depreciation is being felt as Hong Kong's Dim Sum market with yuan-denominated debts slumped to its lowest in 15 months and Thailand's five-year government bonds saw their yield spike up the most in 10 months, according to the latest data in Bloomberg.
"Despite that, China will continue to loosen up its account control, though a contingency plan is needed in crisis," said Xie, adding that it's a lesson learnt from Russia.
The People's Bank of China still aims at reducing the borrowing cost for Chinese companies, said Xie, opposing the view that possibility of a further interest rate cut has diminished.
"The market will adjust itself and the current depreciation of rouble is overstated in part due to market panic," said Xie.