China's January exports up 15.9%, imports up 25.2%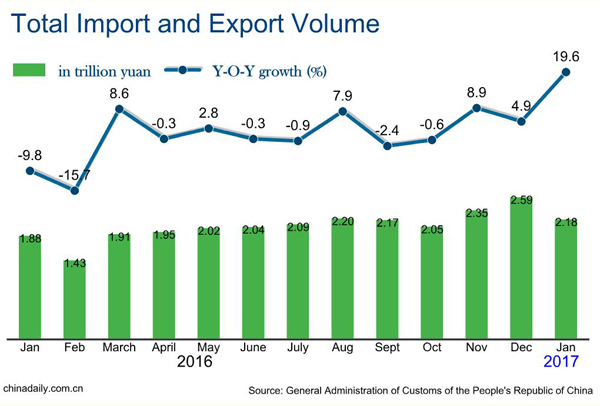 BEIJING - China's trade started 2017 with a strong rebound, with exports and imports both up significantly, but the rise of trade protectionism will be a growing restraint on China's future exports growth.
China's yuan-denominated exports rose 15.9 percent year on year in January, up from 0.6 percent in December, while imports increased 25.2 percent, up from 10.8 percent, customs data showed Friday.
Foreign trade volume reached 2.18 trillion yuan ($3,141.66 billion) in January, up 19.6 percent year on year.
That led to a monthly trade surplus of 354.53 billion yuan, down 2.7 percent from a year earlier, according to figures from the General Administration of Customs (GAC).
Foreign trade with the European Union, China's biggest trade partner, climbed 14.1 percent year on year in January, GAC data showed.
In the same period, foreign trade with the United States, China's second-biggest trade partner, rose 21.9 percent, and that with ASEAN, its third-largest trade partner, increased 18.8 percent.
Overseas-funded firms recorded a trade volume of 915.57 billion yuan, up 13 percent year on year.
Private firms and state-owned enterprises (SOEs) posted a much stronger growth, with their trade volume rising 21.3 percent and 36.7 percent, respectively, in January.
Exports of machinery and electronics surged 16.6 percent year on year in January, accounting for 56.1 percent of the total exports volume.
Meanwhile, imports of primary commodities, including iron ore and crude oil continued to grow in January, featuring general price rises, according to GAC.
"The rebound of trade data was partly due to the low base of January last year," said Deng Haiqing, chief economist with JZ Securities.
But that was not the only reason, Deng said, noting that some economic indicators since this year had actually showed that China's exports and imports were starting to warm up.
Since the start of the year, positive changes and bright spots continue growing in the Chinese economy, a sign the economy is stabilizing amid an uncertain global outlook.
China's manufacturing sector has expanded for the sixth month in a row with the country's manufacturing purchasing managers' index (PMI) coming in at 51.3 in January, according to National Bureau of Statistics (NBS) data released Feb. 1.
The indices for exports and imports edged up to 50.3 and 50.7 respectively, staying above the 50 demarcation line for three straight months.
A separate survey of the service sector also showed steady growth, with non-manufacturing PMI up 0.1 to 54.6 in January.
Tom Orlik, Chief Asia Economist of Bloomberg, forecast that the outlook for China's exports was positive, citing a number of factors including China's own manufacturing investment growth and rebound in US demand.
"China's own manufacturing investment growth has bottomed out and returned to a moderate rising trend, suggesting factories gearing up for slightly higher output," said Orlik in a research note.
However, the new year will also bring new challenges and uncertainties to China's foreign trade. In addition to the extended world economic downturn and China's restructuring efforts, which could hamper trade growth in some traditional sectors, the rise of trade protectionism will be a growing restraint on China's exports.
"The global trade [situation] is deteriorating and will become even grimmer in 2017," said Wang Hejun, head of the trade remedy and investigation bureau under the Ministry of Commerce, who predicts that Chinese steel and aluminum products will continue to be the main targets of trade investigations.
Chinese exporters suffered a record 119 trade remedy investigations initiated by 27 countries and regions last year, a 36.8 percent increase from 2015.
Weighed on by trade remedies, China's full-year exports in 2016 dropped 2 percent in yuan-denominated terms, and imports increased slightly by 0.6 percent, customs data showed. Its trade surplus dropped 9.1 percent.
"Trade friction is normally sporadic and played under WTO rules, resulting from normal international trade activities, while trade wars lay aside trade rules and usually involving large trade sums," Wang said. "We do not want trade wars. ... but we will be well-prepared for and are capable of defending our own rights and interests."