Foreign trade falls in October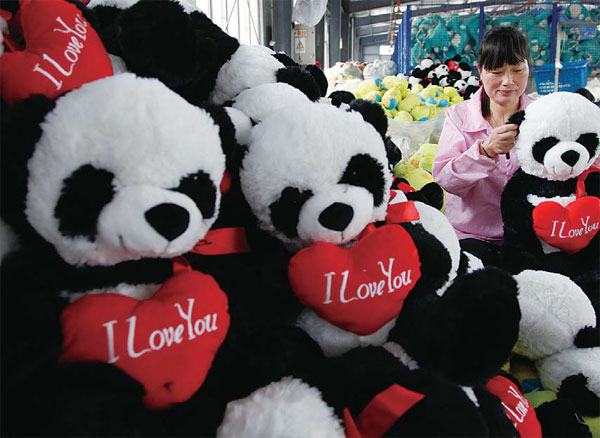 A worker checks panda toys at an export-oriented plant in Lianyungang, Jiangsu province. Si Wei / China Daily
Eager to restore earning strength, manufacturers are upgrading products to cope with the challenge
As both exports and imports failed to meet early forecasts, China's foreign trade decreased to 2.05 trillion yuan ($307.2 billion; 272.3 billion euros; 245.5 billion) in October, down 0.6 percent from the same period last year, Customs data showed on Nov 8.
China's exports declined 3.2 percent year-on-year to 1.19 trillion yuan in October, the seventh straight month of decline, and imports increased by 3.2 percent, according to the General Administration of Customs.
Data showed the foreign trade surplus narrowed to 325.25 billion yuan in October, down 16.8 percent from last October.
The leading index for China's exports shrank to 35.6 from 35.8 a month earlier, the first month-on-month decline in the past three months.
Wang Dongtang, deputy director-general of the Ministry of Commerce's Department of Foreign Trade, says the government will continue to help the processing trade move further up the value chain by introducing new supervision and control models in the processing, logistics and service sector.
"The government has already started to optimize the industrial structure across the country. It has worked with related government branches in making adjustments to nearly 2,000 items on the processing trade negative list to phase out high-energy-consuming, highly polluting and resource-hungry industries," says Wang.
In the first 10 months of this year, China imported more commodities at cheaper prices.
China's exports to its top trading partners varied across the regions in January to October. Exports to the European Union grew 1 percent and to Japan by 0.5 percent from the same period last year, while exports to the United States fell 2 percent, and exports to the Association of Southeast Asian Nations declined 1.8 percent.
Eager to restore their earning strength, Chinese manufacturers are upgrading their products to cope with the challenge.
Liu Yang, deputy general manager of CRRC Zhuzhou Institute Co, an electric bus manufacturer in Hunan province, said the company will establish between seven and 10 sales and service branches in Southeast Asia, India, Canada and the Middle East over the next three years as many countries are keen to adopt electric buses to further cut carbon emissions and reduce fuel costs.
"Traditional industries must extend cooperation in areas such as infrastructure, energy, environment and services," Liu says.
CRRC Zhuzhou Institute has exported electric buses and related power systems to Brazil, Canada and Southeast Asian countries over the past three years.
As a subsidiary of China Railway Rolling Stock Corp, the country's largest train manufacturer, CRRC Zhuzhou Institute will also invest 1.5 billion yuan in Shijiazhuang, Hebei province, to build another manufacturing base to focus on domestic demand from the coordinated development of Beijing, Tianjin and Hebei. These cities are also facing severe environmental issues.
Contact the writers through zhongnan@chinadaily.com.cn