Co-working sows love across spaces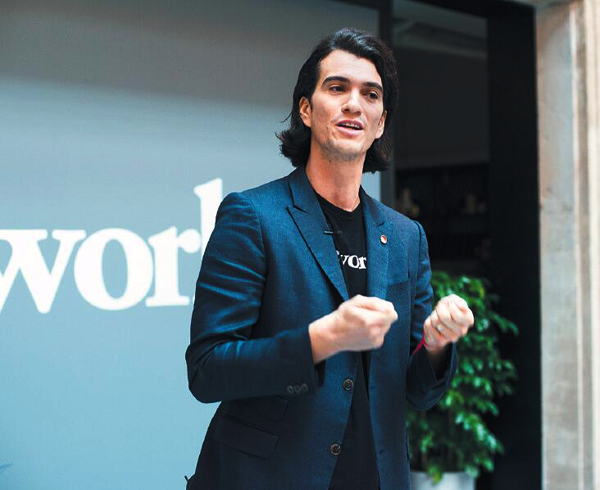 Adam Neumann, WeWork's co-founder and CEO. [Photo provided to China Daily]
WeWork has set up over 100 sites at 35 cities in 10 countries, by 2016
"Do What You Love" is Adam Neumann's catchphrase and no-one who has visited a location of WeWork-the world's biggest co-working space operator-can fail to be impressed by the bon mot that can be found just about everywhere in the company's public spaces to inspire the start-up entrepreneurs, freelancers and self-employed professionals who gather there to work.
On pantry mugs, writing pads in meeting rooms, on the corridor walls, "Do What You Love" is the mantra of WeWork.
WeWork is the New York City-headquartered group founded in 2010 that provides shared workspace, communities and services for entrepreneurs, freelancers, startups and small businesses.
Neumann, WeWork's co-founder and CEO, and a Isreali navy veteran, is passionate about his vision for a global community of creators-for building WeWork not just as a place for people to work in at affordable rental cost, but as a way of working and living.
The business leader almost lost his voice during his trips in Asia, particularly on the Chinese mainland, to meet investors and partners as well as "members"-the latter term replacing the more conventional one of tenants.
With the belief that the world is a better place because of "creators"-and a desire to understand the demands of those creators-Neumann and his team have turned WeWork, that began in 2010 as a small platform for co-working spaces with just one location, into a unicorn enterprise with a value exceeding $10 billion.
In China's context, the thinking behind "Do What You Love" is in alignment with the country's nationwide campaign of innovation and growing entrepreneurship, said Neumann.
This has helped power WeWork's rapid expansion in the market. In return, the co-working space operator helps improve productivity and empowers start-up entrepreneurs to reach further heights, he added.
Recently, he spoke with China Daily about the company's strategy, business opportunities and prospects. The following are the edited excerpts from the interview.
How do you see the co-working spaces market in China? Is there increasing competition as more players enter the market?
Indeed there are many types of services offering offices at affordable rental costs, such as incubators, creative-industry parks, co-working spaces, which is a good thing as long as they meet market demand.
The thing that differentiates us from the others is the networks and community we build up, which enable our members to be exposed to more business opportunities.
By the end of 2016, WeWork has set up more than 100 locations at 35 cities in 10 countries, and now nearly 10,000 companies are based at a WeWork location, with member companies ranging from start-ups to household names including Delta, IBM, KPMG, GE, Dropbox and Samsung. This creates a powerful community that other operators do not offer.
What is your plan for location launch in China market?
We will open several locations in China. In Shanghai, we will open locations in Yunan Lu, East Ocean Center (Yan'an Donglu) and Huaihai Zhong Lu very soon. In Beijing, WeWork Guanghua Lu is going to be opening in March and another location in the city will be opening by summer 2017.
Currently WeWork has two locations on the Chinese mainland, namely WeWork Yanping Lu and WeWork Weihailu. Both are located in Shanghai.
What's your view on China's startup entrepreneurs?
China's fast growth of startups, and nationwide encouragement of innovation and entrepreneurship, is a great opportunity for startups. There is so much demand yet to be met, and these are great opportunities for innovation. Of course, for WeWork it is also a great opportunity to grow in the world's second biggest economy.
What is your advice for startup entrepreneurs?
I think you really need to do what you love, and do not be afraid of making mistakes. I founded a company making babysuits for infants. It did not prove successful but I did not give up creating new business model. I learnt a lesson that in order to be successful it is key to understand market demands. You need to be passionate, brave, and understand demand to create a unique and effective business model.
What is your observation about the fast changing demand for co-working spaces?
WeWork's member demographics are changing as co-working networks expand. In fact-besides conventional startup entrepreneurs-freelancers and self-employed professionals, small businesses, artists, and divisions of large corporations have now joined the co-working network.
For example in Hong Kong, a division from HSBC is working in a WeWork location, as the employer believes that in an open, interactive environment, staff are more encouraged to be innovative and creative, which helps them to perform better and work with more well-being.
What is the core value of working in a co-working space?
The value-added services the community WeWork creates make WeWork far more than just a sublet cubicle at lower cost.
At WeWork, members are part of a global network of all the people who share resources on the same platform, which provides opportunities for letting everyone know everyone to seek collaboration opportunities.
More than 70 percent of WeWork's 90,000 members collaborate with each other and our international locations serve as convenient bases for business travel, enabling a great degree of work flexibility for both multinationals and small-to medium-size businesses alike, as well as options for easy expansion into new markets.
How do you cooperate with local partners?
Take the Beijing Guanghualu location for example. It is the first location WeWork will run in partnership with China local real estate partner Sino Ocean Group, based on a strategic cooperation agreement with a revenue share component between WeWork and SOG reached in November.
Each brings unique expertise and assets to the partnership: WeWork provides the brand, design, community, digital tools, global member network, and management operations. SOG provides the real estate, local market expertise and building-level capital. The partnership is the first of its kind for WeWork in China.
How does the globalization of China's enterprises and the Belt and Road Initiative influence WeWork's business?
The trend and the initiative creates demands that WeWork can meet. Globalization means that members need access to healthcare, payment processing, IT support, payroll management, and legal services, education, and training, and human resources in a new market.
WeWork takes care of members' multi-faceted demands, making opening a new office in a new market much easier. As I said, China is world's second largest economy and entrepreneurship, innovation and creators are all growing. We want to be a part of it.
How do you describe your leadership style?
I believe that people achieve more together than they can on their own. My team and I want to grow WeWork everywhere to serve everyone, expanding globally and focusing on building technology that connects members around the world so they are empowered to do what they love.
What is your take on balancing work and life?
I have four children and a lovely wife, and for me family is very important. At WeWork, our mission is to create a world where people work to make a life, not just a living.
An entrepreneur and a co-working space operator who provides services to entrepreneurs, I have always looked at more areas that WeWork can take care of-such as members' well-being after work.
In new locations, facilities such as a yoga room and fitness room are added alongside a nursery room and shower room, giving members comfortable spaces to relax, entertain, and have quality time with children and family.
CV
Age: 37
Nationality: Israeli
Career:
2010 onwards: Co-founder and CEO of WeWork
2007: Founded a business making baby care products
2001-07: Being a start-up entrepreneur and studying business modle in New York
Education:
City University of New York Baruch
Family: Married, with four children
Hobby: Surfing