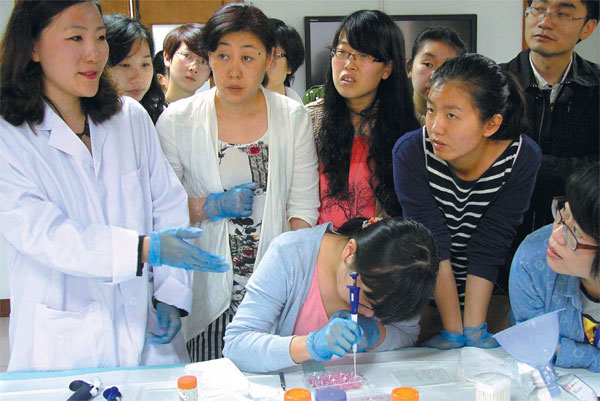 Chinese researchers at a training session into alternative procedures for eye irritation tests that do not require the use of live animals. It's a workshop recently held in Guangzhou. Cheng Shujun / For China Daily

Lifting of requirements in cosmetics sector is a welcome move, but there is still much more to do, Xu Wei reports.
China's cosmetics industry will enter uncharted waters at the end of the month when the rules requiring live animal testing will be relaxed for certain products.
Although the move has won applause from animal rights groups and industry insiders, some laboratories are expected to struggle to adapt.
A regulation released in December by the China Food and Drug Administration stated that, from June 30, domestically manufactured "non-specialized cosmetics" - including shampoo, soap, nail products and some skincare products - can be sold even if they haven't been tested on animals.
The change follows blanket bans on animal-based testing in a number of countries and regions, including the European Union, India and Israel. But insiders say the success of the move is contingent on a number of factors, such as cost and the availability of the appropriate technology and scientific expertise.
Animal rights groups have hailed the move as a major step forward in the push for humane testing in Chinese laboratories. The lifting of the requirement is also expected to boost exports to the European Union, the world's largest cosmetics market, which banned the sale of products developed via animal testing in March 2013.
"It will be a very good thing for domestic manufacturers in China, because it will enable them to sell their products in the EU, as long as no new testing has been done for their products since March 11, 2013," said Troy Seidle, director of the Research and Toxicological Department with the United States-based Humane Society International.
However, experts said China still has a long way to go before it can match international standards in the use of in vitro methods - tests conducted on cells grown in petri dishes or test tubes - and other alternative methods.