China's President Xi to boost Sino-Swiss ties with state visit
By Fu Jing in Bern, Switzerland ( chinadaily.com.cn )
Updated: 2017-01-11 16:32:31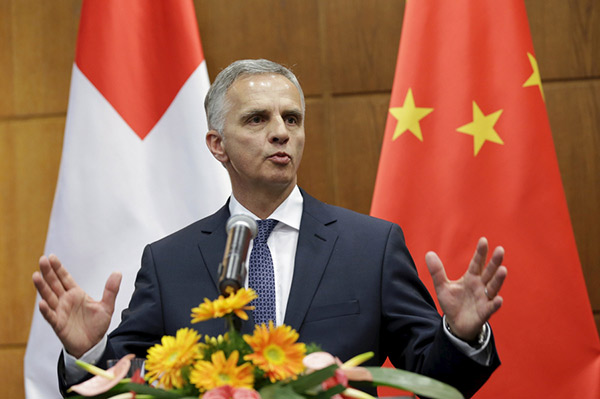 Didier Burkhalter, head of the Federal Department of Foreign Affairs of Switzerland said Chinese President Xi Jinping will be giving a "strong boost" to the Sino-Swiss bilateral relationship during his forthcoming visit. [Photo/VCG]
China's President Xi Jinping will be giving a "strong boost" to the bilateral relationship between China and Switzerland, which already enjoys considerable mutual trust, said Didier Burkhalter, head of the Federal Department of Foreign Affairs of Switzerland.
"I am confident that President Xi's state visit will be giving a strong boost to our relationship, which is already very good and promising," Burkhalter told China Daily.
Xi is to visit Switzerlandfrom January 15-18 to deepen the relationship by announcing new measures to boost free trade, cultural exchanges, tourism and financial cooperation.
Burkhalter said his country was the first Western country to recognize the People's Republic of China in January,1950. "And from that time, our relationship, which is a historic one, has become stronger and stronger with the mutual trust we have rendered," he said.
Switzerland recognized China's market economy status in 2007. In July 2014, the two countries started to implement a free trade agreement, and in April, 2016, when former president of the Swiss Confederation Johann N. Schneider-Ammann visited China, both sides signed a "partnership of innovation."
Federal Councillor Doris Leuthard took over from Schneider-Ammann as president of the Swiss Confederation from the beginning of this year. Leuthard also visited China in August last year.
Burkhalter said currently both sides enjoy a "very good and promising relationship" with dialogue in various areas such as the economy, finance, environment, culture and human rights.
He also said China and Switzerland have set examples on how to establish a win-win partnership by ironing out differences in their political and social systems.
"The Swiss side is willing to deepen cooperation with China to explore innovation and maintain the global free trade system," said Burkhalter.
Burkhalter added that his country will also work closely with China in various multilateral areas to become stabilizing factors of the increasingly complex global situation.
To contact the reporter: fujing@chinadaily.com

We will not give up search, Li vows
International hunt for missing airliner continues after fruitless six-day search