High hopes for Chinese hoops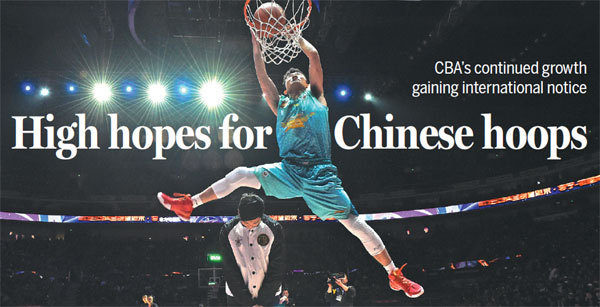 Sun Minghui of Zhejiang Lions soars skyward en route to winning the slam dunk competition during halftime of the CBA All-Star Game at LeSports Center in Beijing on Sunday. [Photo/Xinhua]
CBA's continued growth gaining international notice
If not for the traditional Chinese music rocking Beijing's sold-out LeSports Center on Sunday night, the 18,000 fans attending the CBA All-Star Game might have felt like they were watching the NBA showcase at the Staples Center in Los Angeles.
From kiss-cam isolations on the jumbotron to a three-point shootout and a halftime slam dunk competition, the extravaganza provided fans with an NBA-caliber feast in an electrifying atmosphere unique on China's sports landscape.
CBA All-Star Weekend, together with the league as a whole, has grown tremendously over the past decade in terms of media exposure, commercial value and international recognition.
Thanks to international expertise and strong local support, Infront Sports & Media, which signed on as the CBA's marketing and promotions partner in 2005, has helped propel the CBA to the forefront of the worldwide stage.
Philippe Blatter, president and CEO of Infront Sports & Media and president and vice-chairman of Wanda Sports, is not surprised by the league's growth.
"When I see the development over the past five years, it's been tremendous. What we see today is on par with world-class sports events anywhere," Blatter told China Daily before Sunday's All-Star Game. "It has become a very central element of the league and also the sports landscape of China."
Infront has played a significant role in growing the league's commercial appeal, optimizing media coverage and developing its competitive level through an international network built through managing more than 25 sports around the world since 2002.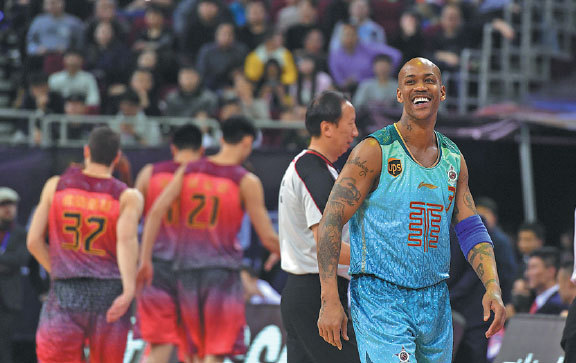 Below, Stephon Marbury of the Beijing Ducks flashes a smile during a break in the action in Beijing on Sunday. [Photo/Xinhua].
Attracting a total of 1.79 million on-site spectators during the 2015-16 season, the CBA also drew a cumulative TV audience of over 900 million last year - a 22 percent year-on-year increase. That generated media value of nearly 23.8 billion yuan (about $3.4 billion) for commercial partners.
The CBA has attracted 29 major sponsors, including equipment manufacturer Li Ning, which in 2012 signed a five-year deal worth $288 million.
"The commercial appeal has improved dramatically. The international appeal to great brands is also increasing. That just shows the attractiveness this platform has," said Blatter.
With its partnership with the CBA set to expire at the end of this season, Infront expects to extend the win-win cooperation, and a marriage with China's leading conglomerate Wanda Group has offered it advantages over competitors.
David Yang, CEO of Wanda Sports China, said the company's strength in experience and outreach in the Chinese market will build on Infront's global expertise to better promote the game while serving clients.
"People in China know Wanda very well. They know our ability to execute on time with the highest quality. We have had a team serving Chinese basketball for the past decade. The team is fully committed, and they know how to improve over time. Now with Wanda on board, it endorses this expertise and can really make CBA even more appealing to our future partners," added Yang, the former senior vice-president at NBA China.
In February 2015, Wanda announced it had acquired Infront from European private equity company Bridgepoint for about $1.2 billion.
As China aims to grow the sports sector into one of the nation's economic pillars, Blatter has high hopes that CBA can eventually emulate the success of NBA.
"Our first aspiration was for the CBA to go far beyond China, to become the best league in Asia. We are well on track to achieve this," he said. "And now we have the ambition for the CBA to reach the level of NBA, even if that is a lofty goal. But sometimes in life, you have to put a high goal as a motivation."
sunxiaochen@chinadaily.com.cn
Most Popular
Highlights
What's Hot