Djokovic too handy for Andy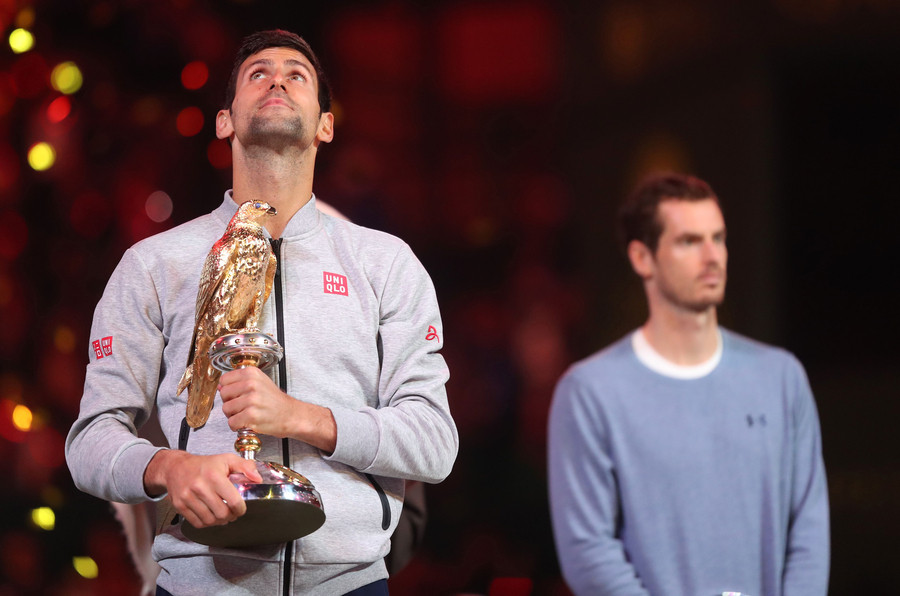 Serbia's Novak Djokovic (L) poses with the winner's trophy after beating Britain's Andy Murray during their final tennis match at the ATP Qatar Open in Doha on January 7, 2017. [Photo/VCG] 
Novak's quick racket ends Murray's streak
Wielding his racket like a magic wand, Novak Djokovic brought world No 1 Andy Murray's 28-match winning streak to an end in Doha on Saturday to retain the Qatar Open title in a three-set thriller.
Djokovic won 6-3, 5-7, 6-4 in an action-packed match between the two best players in the world, lasting almost three hours.
It is Djokovic's 25th career victory over Murray and put down an early-season marker against his British rival before the Australian Open later this month.
Describing Murray as his "biggest rival", Djokovic said both players "dragged each other to our limits."
"Every match we play is a huge challenge; you have to accept and expect a great battle," he said.
"You saw tonight how much we both wanted to win.
"I had three or four match points in the second set, he turned it around and I thought: Wow! I hope this isn't payback time!
"He was close... all the way to the last shot, you never know with Andy."
Djokovic was penalized a point in the second set after destroying his racket as the tension mounted.
Despite going into the third set showing signs of frustration and weariness, he was able to claw away any momentum Murray had to secure his second straight title in Qatar and the $209,665 first prize.
A break of Murray's serve in the seventh game of the final set - when the Scot looked most likely to win - proved decisive.
Serving for the match, Djokovic secured the title on his fourth match point, having squandered three in the second set when Murray astonishingly recovered from 5-4 down and 40-15 to win three games in a row and force, at that point, an unlikely deciding set.