China vows to cooperate with international community in Switzerland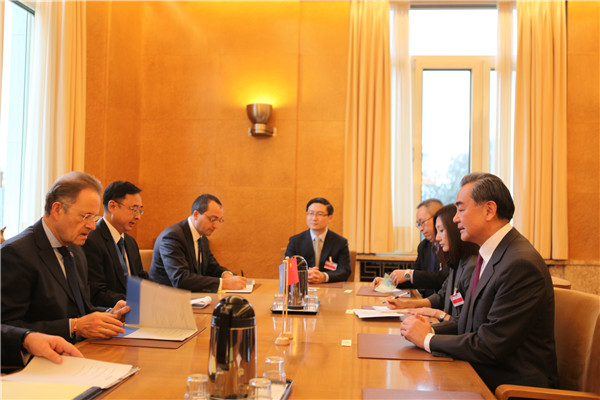 Foreign Minister Wang Yi (foreground, right) held talks with Michael Moller, director-general of the United Nations Office in Geneva on Sunday. [Photo by Fu Jing/chinadaily.com.cn]
Foreign Minister Wang Yi visited Switzerland-based international organizations on Sunday and pledged that China will actively enhance cooperation with them to further uphold multilateralism amid a complicating global situation.
Wang stressed the commitments during talks with Michael Moller, director-general of the United Nations Office in Geneva; Margaret Chan, director-general of the World Health Organization; and Thomas Bach, president of the Lausanne-based International Olympics Committee.
On Monday, Wang is scheduled to meet Swiss leaders; it was announced last Wednesday that Doris Leuthard will take over the one-year presidency of the Swiss Confederation from Johann N. Schneider-Ammann starting in January. Both of them visited China in 2016.
"Against the backdrop that the global situation is continuously becoming complicated, the role of the United Nations can be only strengthened instead of being weakened," said Wang, when meeting Moller.
Wang said China has attached great importance to cooperation with the UN, and such a stance will be further beefed up.
"China is a strong supporter of multilateralism and activities of the United Nations," he added.
Wang said Geneva was where China made its global debut, referring to premier Zhou Enlai leading a delegation to the Geneva Conference in April 1954.
"The UN office in Geneva has played an important role in helping China in opening-up and reform drives and its development, and China has contributed to global peace and development through the UN in Geneva," Wang said.
Moller agreed with Wang, saying multilateralism and international cooperation are the solutions to the worsening conflicts and disputes worldwide.
"The UN has also attached great importance to China's role and influences in dealing with international affairs," Moller said. "And we hope to strengthen cooperation with China."