Aid groups descend on quake zone; 102 dead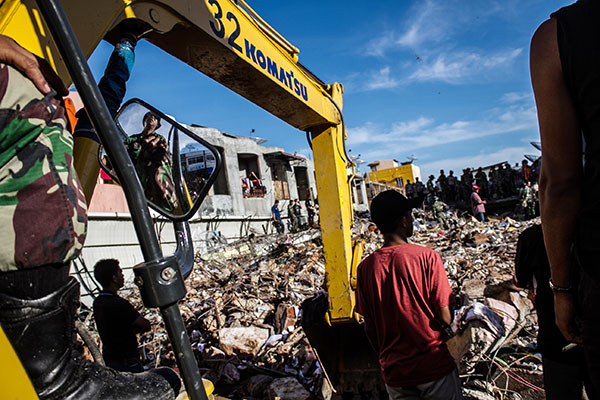 Rescuers inspect the damage after an earthquake struck Pidie Jaya on Friday in Aceh, Indonesia. The strong tremor killed 102 people. [Photo by Albert Damanik/Barcroft Images]
Thousands of people are homeless or afraid to return to their homes
Humanitarian organizations descended on Indonesia's Aceh province on Thursday as the government in Jakarta promised tons of emergency aid and officials raced to assess the full extent of damage from an earthquake that killed more than 100 people.
Search efforts involving volunteers and nearly 1,500 rescue personnel were concentrated on the hard-hit town of Meureudu in Pidie Jaya district near the epicenter of the magnitude-6.5 quake that hit before dawn on Wednesday. Humanitarian assessment teams were fanning out to other areas of the district.
National Disaster Mitigation Agency spokesman Sutopo Purwo Nugroho said the death toll had risen to 102 and warned it could increase. Search teams were using devices that detect mobile phone signals with a 100-meter radius to help guide their efforts as they scoured the rubble, he said. Aceh's disaster mitigation agency said more than 750 people were injured.
Those killed included very young children and the elderly. Mohammad Jafar, 60, said his daughter, granddaughter and grandson died in the quake but he was resigned to it as "God's will".
He was getting ready for morning prayers when the earthquake hit. He said he and his wife managed to push their way out through the debris.
Thousands of people are homeless or afraid to return to their homes. Officials in Aceh said more than 8,000 people spent Wednesday night in shelters in Pidie Jaya district alone.
Terrifying memory
Killer quakes occur regularly in the region, where many live with the terrifying memory of a giant Dec 26, 2004, earthquake that struck off Sumatra. The magnitude-9.1 quake triggered a devastating tsunami that killed more than 100,000 Acehnese.
The Indonesian government said its urgent aid would be flown out of Jakarta on Thursday afternoon and will include 10 generators, tents, folding beds, baby supplies and body bags.
It will take at least two more days before there's a fuller picture of how many people are displaced and the relief effort required, he said.
Indonesia is prone to earthquakes due to its location on the Pacific "Ring of Fire", an arc of volcanoes and fault lines in the Pacific Basin. The 2004 quake and tsunami killed a total of 230,000 people in a dozen countries.
Scores of rescuers crawled over a market in Meureudu, the hard-hit town, where many shop houses collapsed.
One shop owner, Hajj Yusri Abdullah, didn't hold out much hope of finding survivors. He said nearly two dozen bodies were pulled from the market debris the day before. They included a group of eight made up of a newlywed couple and family members holding an ornate celebration known as Antar Dara Baro.