Cross-border shopping gains among young and educated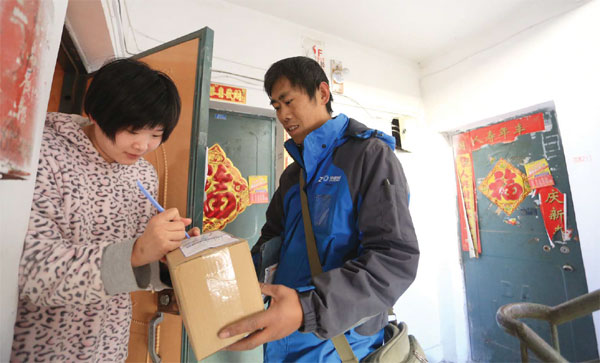 A 26-year-old woman receives goods she bought online in Dalian, Liaoning province. [Photo provided to China Daily]
The popularity of cross-border online shopping is growing in China, with younger people and families being the driving force, according to a report issued by Amazon China.
The report showed that Black Friday, the US shopping spree that starts after Thanksgiving, is getting more popular among Chinese consumers, with sales doubling from 2015 to 2016.
Consumers with less than two years' cross-border online shopping experience accounted for more than 50 percent of the total. Young, highly educated consumers with high incomes are the major group of Amazon China's cross-border online consumers.
Nearly 80 percent of the consumers are aged below 35 and about 90 percent have at least bachelor's degrees.
Consumers with monthly salaries above 5,000 yuan ($720) accounted for 62 percent of cross-border online shoppers in 2016, according to the report, while families with children accounted for 84 percent.
Moreover, consumers are becoming more quality-conscious. Price and quality are listed for the first time as the two most critical factors in cross-border online shopping.
Elaine Chang, Amazon China president, said: "Cross-border online shopping experienced explosive growth in 2016. Consumers prefer to buy high-quality products from overseas vendors."
Chang estimated this trend will continue this year, and Amazon will expand the scope of authentic overseas products.
The report also showed that first-tier cities lead the cross-border online shopping trend. Beijing took the first place in purchasing volume, followed by Shanghai, Guangzhou and Shenzhen. Apparel and shoes were the most popular products.