Going fast on digital highway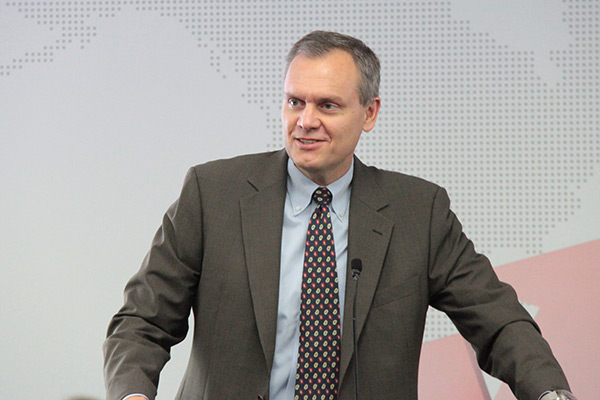 Darius Adamczyk, CEO-in-waiting of Honeywell, will take office in March 2017. [Photo provided to China Daily]
Speed will separate winners from losers in the internet age, says Honeywell's CEO-in-waiting
Sitting in front of a room-sized aerospace simulator for pilots, Darius Adamczyk, president and chief operating officer of Honeywell, deftly shifts from topic to topic-including in his animated discussion such diverse topics as aerospace, to the group's new line of the breathable masks that help protect people during the high pollution days in China.
The wide range of his interests reflects the extraordinary range of businesses of the $40 billion technology and manufacturing giant, from aerospace to control technologies for buildings, homes and turbochargers, to performance materials.
But Adamczyk, 50, who is to be the new CEO from the end of March next year, is pushing for even more changes in his group-determined to take the company to even higher levels of involvement in the digital age.
On his recent trips to China, he talked to his Chinese teams about how the multinational would gain more growth from blending its strengths in hardware with stronger presences in software in the digital age and how to encourage them to create new ideas as startups rather than in an established industrial conglomerate.
He believes the place to achieve such "breakthroughs" is in China, its second largest market after the United States. Adamczyk is clear about how committed Honeywell is to the country-with its major presence, 13,000 employees and diversified businesses in manufacturing and research and development, serving both the Chinese market and international markets.
Honeywell wants to be viewed as a local player, acting at the brisk performance levels achieved by many domestic companies, he said.
"When I think about China, I can't think of a company that's more aligned to the needs of where the country is heading," said Adamczyk, citing the key areas of energy conservation, energy solutions, clean air and water, smart buildings, chemicals and work safety.
Recently he spoke with China Daily about the company's strategy and business opportunities in China. The following is the edited excerpts from the interview.
What are your strategies for the company in the long term?
No 1 is to continue to provide superior value to our customers and No 2 is to drive digitalization throughout Honeywell. We have a strong presence in software. But we have more opportunities to drive it. And all aspects of our business and strategies of software are very customer-centric.
Lastly I want to make sure that we operate in segments that are exciting and growing, and well aligned with mega trends.
How are you going to blend software programing with Honeywell's existing physical products?
Honeywell has been developing in internet of things and we have access to data. Honeywell is the company that has those products that actually generates that data.
However, we've used that information just to make the basically functional products. We now aim to integrate that data, with the information across the whole installation base that we have and across all our products, and think about our customers' challenges differently. We now have opportunities to redefine how we create new value for our customers through our software capability, installation base and domain knowledge.
What do you think are the most challenging issues for Honeywell to be more flexible and nimble in the internet era?
The speed is something that's going to separate the winners from losers. And in this new industrial software-and certainly one of the things that I'm trying to enable in Honeywell-it's important for us to be able to operate and come up with ideas at a whole different rate of speed than ever before.
What's your definition of a breakthrough?
I'm never satisfied with the current speed in growth. When we think of growth, I think about it as continuing to gain a share in our core markets, but also coming up with adjacent strategies that will enhance our overall growth.
So I'm pushing and driving the organization to be more creative to think about our offerings differently, to rethink what breakthrough growth means and to take the time to set metrics and expectations to make sure that happens.
What kind of incentives are you going to offer to your employees to be creative and to develop new products and new applications?
I am encouraging all of our businesses to create new ideas and create new organizational structures, to create new small businesses.
I want them to operate like startups. So I want to remove a lot of bureaucracy and encourage our people and businesses to embrace higher-risk, higher-reward breakthrough initiatives to really drive growth.
How do you prioritize your business portfolio to meet this goal?
As a new CEO takes over, we can take a look at the markets we are in and the markets we are not in and optimize our operations and where we are today.
I really want to align our businesses towards a lot of longer-term global macro trends. But most importantly for Honeywell, we have to be in segments where you differentiate yourself by technology.
Honeywell is a technology company.
How have Honeywell's Chinese operations performed this years, and what are their prospects?
They continue to do very well. We've had another strong year in China and we are anticipating it to be even stronger in 2017. We have seen a recovery in some areas.
One of the more challenging market sectors in China has been the oil and gas segment due to what's been happening there.
But overall, it has been a very strong year in 2016 and we look forward to an even stronger 2017.
You started your career as an engineer. What is your advice to people making the transition from engineering to management?
It's the most challenging thing to make that first transition from being an engineer. In my case, I happened to bridge my engineering career with an MBA, to go into the world of business.
But my advice to engineers is to take an assignment outside core engineering. Because the broader understanding you have, the more effectively you can make that progress.
You've been praised for succeeding in every business leadership role you have ever held. What's your secret?
It's about having strategies, having a group of people to work with and having the tactics to make sure the strategy is being executed every day, every week, every month, every year.
Everybody in the organization should be able to say how they are contributing to that strategy. Then it's about putting the operational systems in place. And lastly, people are critical.
What is the most important quality for a leader?
As a leader, you have to put a lot of energy and a lot of passion into the business. You have to be the spark that moves the organization.
That's something that I am always trying to do. I think the job of leader is to always set the bar higher, to always challenge the organization.
What are your hobbies and interests outside of work?
I spend all my spare time with my family. To make sure that you stay really grounded, what's truly important is your family.
CV
Age: 50
Career:
2017 March: CEO of Honeywell
Currently: President and Chief Operating Officer of Honeywell
Previous positions include: President and CEO of Honeywell Performance Materials and Technologies; President of Honeywell Process Solutions; President of Honeywell Scanning & Mobility;
Senior associate at Booz Allen Hamilton;
Electrical engineer at General Electric.
Education:
MBA from Harvard University;
Master's degree in computer engineering from Syracuse University;
Bachelor's degree in electrical and computer engineering from Michigan State University