New direction to ride out perfect storm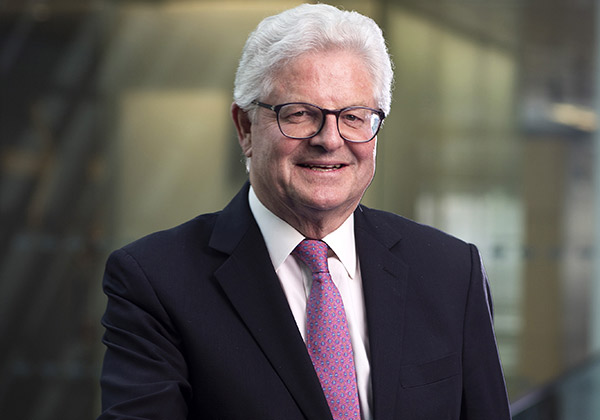 John Nelson, chairman of Lloyd's of London. [Photo/Agencies]
What Lloyd's of London chairman John Nelson sees is a "perfect storm" facing the global insurance market.
He says the exceptionally low interest rates and the excessive amount of capital in the insurance sector are driving down both investment returns and premiums for insurers.
Nelson also notes the rapid development of technology, which has also increased competition in the markets by changing the relationship between insurers and their customers.
Lloyd's of London, the world's oldest market for specialist insurance and reinsurance, is responding with a strategy known as Vision 2025, according to Nelson.
One of the highlights of the strategy is international expansion. A core to that is China which will remain one of the most important frontiers for the institution, as it continues to evolve from its start as a coffee house in London dealing in marine insurance in the 17th century into a global market place where more than 200 insurance brokers come to pool and spread risks.
Nelson spoke recently with China Daily about the insurance market's strategy and its plans in China. The following are edited excerpts from the interview:
How do you see the growth potential of the Chinese insurance sector and what opportunities are there for Lloyd's?
Over the last few years China has become an extremely important platform for the Lloyd's market. In Shanghai and in Beijing, we now have over half of the Lloyd's managing agents physically present on the platform-31 to be precise.
We have increased our business substantially on this platform to 792 million yuan ($114 million) in gross written premiums in 2015, and we are confident we will surpass 2 billion for the past year and we continue to see China perhaps as the most important growth market in the long-term for Lloyd's.
Insurance can provide vital support and protection, allowing Chinese companies to offset risks and focus on growing their business. In particular, Lloyd's has the specialist expertise for the sorts of large construction, energy, marine and transport projects that this country is investing in.
As a platform for international expansion, Lloyd's provides a really good springboard for Chinese insurers wanting to develop their international strategies.
For example, China Reinsurance Group has joined the Lloyd's platform. We also signed a memorandum of understanding with China Taiping Reinsurance in October 2015.
I think gradually these things take time and that global carriers from China coming onto the Lloyd's platform will increase.
How do you plan to further expand your presence in China?
Our Shanghai hub opened in 2007. And two years ago we opened a branch in Beijing, which brought us closer to the major reinsurance market.
We have about nine managing agents on that platform and I am very pleased with the progress. I think the main next step is to reinforce what we have already done.
We've got the core of the market here. Now the challenge for the participants is to increase penetration in specialist lines. We are looking at new forms of distribution and are trying to get these specialist lines more into the veins and arteries of the Chinese economy.
How can Lloyd's specialties and services meet the need for more sophisticated insurance products amid China's ongoing process of urbanization?
The increasing urbanization is in one sense making the economy more efficient and more inter-connected. But in another sense, it is concentrating risks and the consequences are obviously more relevant if you have greater urbanization.
China is a classic example of a country that continues to rapidly urbanize. The movement of people from the rural countryside to the cities is making economies more efficient, but also making them more vulnerable to systemic shock.
What we are seeing is that the risk from natural catastrophes is increasing, but also man-made risks such as cyber attacks.
What role can Lloyd's play in China's Belt and Road Initiative?
The initiative will deepen trade ties between China and Europe and secure the future prosperity of generations to come in areas of the developing world. And it has the power to reshape the economic landscape, just as the original Silk Road did before it.
It will also provide new development opportunities for Chinese insurers' international operations as well as global reinsurers, with them providing capacity and global expertise.
And just as Lloyd's was the backstop behind early maritime trade and the transport innovations that subsequently transformed our world, so we are ready to partner with Chinese insurers to provide solutions to support and protect China's economic growth and Chinese business interests abroad.
How do you intend to attract more capital from Chinese insurers to Lloyd's platform after forming partnerships with two of Chinese reinsurance firms?
I think over the next 5 to 10 years, you will see a number of additional Chinese carriers coming onto the platform.
We want the process to be gradual and don't want see people rushing at making a commitment. There is no point for the Lloyd's market in a carrier coming on just for capital. What we want is to make sure it is broadening our footprint and business.
We are also very keen to diversify the nationality base of the people on the Lloyd's platform. So if a carrier wants to come on to the Lloyd's platform, we are very keen that they put some of their best people into their Lloyd's business. We think that having Chinese people on the Lloyd's platform will massively increase the expertise in the market.
China has established an insurance exchange in Shanghai with the ambition to develop its own insurance market. What does this mean for Lloyd's?
This is where I think Lloyd's can help. We can bring expertise to the new products and we can do that through reinsurance and by backing up domestic insurers.
Also, diversifying reinsurance risks outside the country can help the domestic economy.
So in other words, having a liberal insurance market is very important. The Shanghai Insurance Exchange is in its early days. We are supportive of it and we have agreed to become a member of it. It will be very interesting to see how it develops.
What is the biggest challenge for Lloyd's to navigate in the Chinese insurance market?
I think one of the biggest challenges is assessing risks in China. As the economy changes, there is a lack of data and a lack of history.
In other countries, we have got good quality data which allow us to model risks more accurately. As time goes on, that will improve in China.
But at the moment it is still somewhat difficult as it is at a fairly early stage of development. As times passes, we will be able to collect the data and it will become easier for us to model the risk.
How would you define your management philosophy at Lloyd's?
If you look at it as a soccer analogy, we set out the football pitch, we mow the grass, we paint the lines, and we make it as good a pitch as it could possibly be. That is our philosophy.
What do you do at your free time?
I enjoy my family. And I enjoy sailing. I have been sailing since I was 15. I also like the arts and I am a trustee of the national gallery in London.
Contact the writer at@chinadaily.com.cn