Economic cooperation tops agenda for Merkel's China visit
( Xinhua )
Updated: 2015-10-29 23:29:19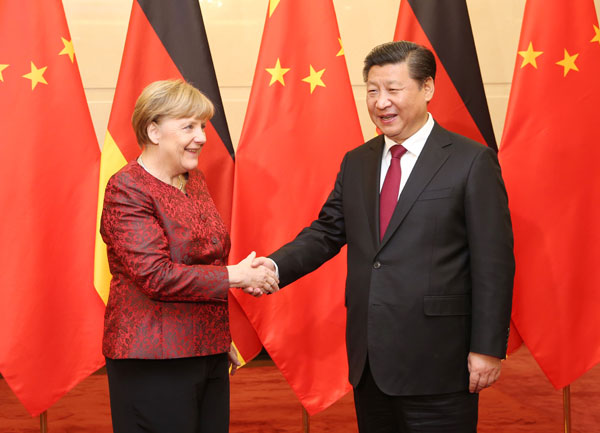 Chinese President Xi Jinping (R) meets with German Chancellor Angela Merkel in Beijing, capital of China, Oct. 29, 2015. [Photo/Xinhua]
BEIJING -- German Chancellor Angela Merkel is making her eighth visit to China with strengthening economic links atop her agenda.
Chinese Premier Li Keqiang and Merkel witnessed the signing of 13 cooperation agreements after their talks on Thursday, including a deal for China to buy 130 aircraft from Airbus.
The planes have a list price of 17 billion US dollars, making the deal one of the largest orders China has ever placed with the European aviation giant.
MERKEL THE SINOPHILE
Merkel landed in Beijing earlier on Thursday, becoming the most frequent visitor to China among Western leaders. Since 2005, she had paid seven visits to China as German chancellor and spent time in seven Chinese cities.
"The close contact and exchanges of visits between Chinese and German leaders revealed the momentum with which our relations are developing," said Chinese President Xi Jinping in his meeting with Merkel.
Xi called on both sides to consolidate trust, accommodate their respective core interests and major concerns, and achieve new progress in their cooperation in finance, urbanization, agriculture, electric vehicles, environmental protection, culture and protection of the disadvantaged.
He urged Germany to help facilitate China-EU personnel exchanges and speed up negotiation on a China-EU investment treaty.
Merkel in turn vowed to boost bilateral trade, industrial and financial cooperation, and participate in the China-proposed Belt and Road Initiative and the Asian Infrastructure Investment Bank.
Her visit comes a week after Xi visited Britain, and days before French President Francois Hollande's state visit to China.
"The recent intensive diplomatic interactions between China and European powers shows the great emphasis they have laid on cementing partnerships with one another," said Cui Hongjian, a specialist in China-Europe relations at the China Institute of International Studies.
Cui said trade cooperation is the driving force behind this interaction. "China-EU trade is of vital importance because trade with China serves as a pillar in the EU's economic recovery, and it helps boost China's foreign trade growth amid the country's economic slowdown."
On Friday, Merkel will fly with Premier Li to Hefei in the eastern province of Anhui, where Merkel is expected to visit a local family and a village school. The two leaders will attend a seminar with business leaders from both countries.
It is the first time that Li has invited a foreign leader to visit his home province.
ECONOMIC TIES TOP AGENDA
"The two countries should lay special focus on fostering new growth points in two-way investment and cooperation in finance, innovation and entrepreneurship," Li told Merkel in their talks at the Great Hall of the People in downtown Beijing.
As China and Germany are pursuing similar strategies to integrate conventional industry with information technology, Li proposed establishing an intergovernmental mechanism to coordinate the two.
Merkel told Li she has confidence in the development of China's economy, stressing that the transformation of its growth mode will provide new opportunities for Germany-China cooperation.
Germany will support the RMB's inclusion in the International Monetary Fund's special drawing rights basket, and back China's application for membership of the European Bank for Reconstruction and Development, she said.
"Stronger economic cooperation will be the most remarkable achievement from Merkel's visit. China offers a huge emerging market for Germany while the country can learn from Germany's industry," said Feng Zhongping, vice president of the Chinese Institute of Contemporary International Relations.
Germany is China's biggest partner in Europe in terms of trade, investment and technology cooperation, while China is Germany's largest trading partner outside the EU.
Sino-German trade hit a record high of 177.8 billion U.S. dollars in 2014, accounting for around 30 percent of the China-EU trade volume.
The China-Germany partnership has also played a leading role in China-EU relations.
Li urged China and Europe to launch a feasibility study on free trade talks as soon as possible, and to speed up negotiation on the China-EU Investment Treaty.
Merkel said Germany hopes China and the EU will sign a bilateral investment treaty at an early date, which would be a significant prerequisite for a further China-EU FTA.
The two leaders also attended a conference on cooperation in helping the disadvantaged later on Thursday.

We will not give up search, Li vows
International hunt for missing airliner continues after fruitless six-day search