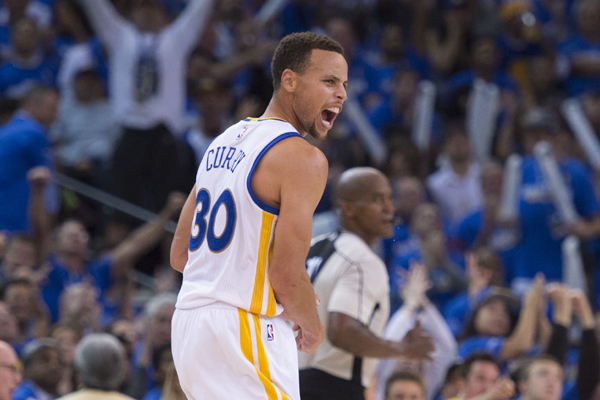 Golden State Warriors guard Stephen Curry (30) celebrates during the third quarter against the New Orleans Pelicans at Oracle Arena. The Warriors defeated the Pelicans 111-95.  [Photo/Agencies]
OAKLAND, Calif.- NBA MVP Stephen Curry showed in a hurry he hasn't lost a step or his swagger, scoring 40 points to lead the Golden State Warriors to a 111-95 victory over the New Orleans Pelicans on Tuesday night to open their title defense.
Curry put on a familiar shooting clinic from all over the court, knocking down seven of his first nine shots with four 3-pointers for 24 first-quarter points. He finished 14 for 26 with seven assists and six rebounds in a rematch of the first round of the playoffs that Golden State swept 4-0. It was his 10th career 40-point game.
Curry and the Warriors raised the championship banner and received their rings in an elaborate pregame ceremony featuring glitz, glow sticks and fire. Coach Steve Kerr attended, then left for the locker room to rest his surgically repaired back as interim Luke Walton coached the team.