SINGAPORE - Italy's Flavia Pennetta said arrivederci to women's tennis on Thursday after defeat to Maria Sharapova at the WTA Finals ended her bid for one last fairy tale to cap an already magical final year in the game.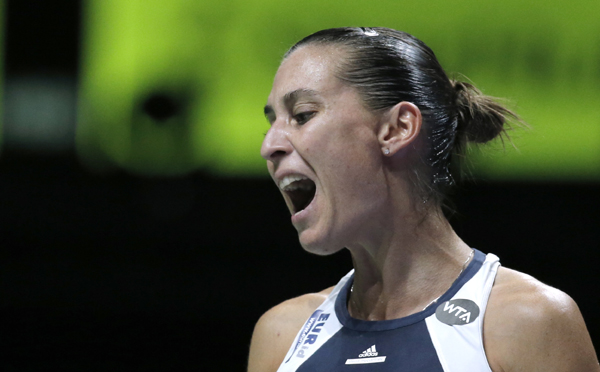 Italy's Flavia Pennetta looks dejected after losing a point during the round robin match.  [Photo/Agencies]
The 33-year-old Italian, who landed her first grand slam singles title with a shock victory at the U.S. Open last month, needed only to win a set against the Russian to advance to the semi-finals of the eight-player end-of-season championships.
But Sharapova was in no mood for sentimentality, and the Russian fought back from a break down in the first set to claim a 7-5 6-1 win and earn a place in the last four, along with Agnieszka Radwanska, who had lost to the Italian in round-robin play on Tuesday.
For Pennetta, who played her part in another entertaining contest with some flashing winners -- particularly from the backhand side -- it was a fitting setting in which to bow out.
"I'm happy to have had the chance to play this tournament. I think to have the last match against Maria, who is an amazing player, such a good champion, was such a good way to say goodbye," she told reporters.
"When you lose against such a good player there are not too many things to say.
"Right now I feel like it's not my last match. I feel normal. I don't know why. Maybe in few days I will feel different. Right now it's so far, so good."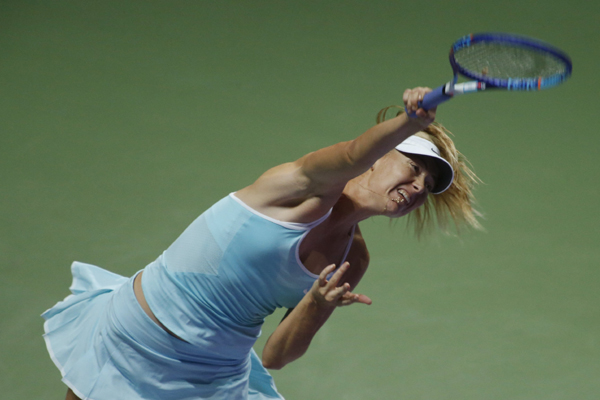 Maria Sharapova of Russia serves to Flavia Pennetta of Italy during their women's singles tennis match of the WTA Finals at the Singapore Indoor Stadium October 29, 2015.  [Photo/Agencies]
Pennetta will have one final engagement, at the fun-filled International Premier Tennis League at the end of the year, but her WTA career is definitely done after she resisted the temptation to compete at next year's Olympic Games in Rio de Janeiro.
She won 11 singles titles in her career and 17 in doubles and proved an inspiring role model by becoming the first Italian woman to reach the top 10 in 2009.
Pennetta also took the 2011 Australian Open doubles title and 2010 WTA Tour finals titles with Argentine Gisela Dulko, becoming the first Italian of either sex to be ranked doubles number one. She also helped Italy to four Fed Cup titles.
Wrist surgery in 2012 saw her plummet to 166th in the world but she clawed her way back with a jovial spirit that had made her one of the most popular players in the locker room.
When she landed the Indian Wells title on the American hard courts in 2014 the recovery was complete, but there was more to come: the fairytale win at Flushing Meadows over compatriot Roberta Vinci making her the oldest first-time winner of a grand slam singles title.
But rather than the trophies, Pennetta, born in Brindisi in southern Italy, said she was proudest of never giving up.
"I had so many injuries, so many stops in my career. I had to start many times from nothing," she said.
"Of course it's much better if you have everything quickly when you are younger, but I think it's also good to see it doesn't matter how many times you fall down, you can always come back."