LONDON - Eight people officially declared their bids for the FIFA presidency as Monday's deadline was reached.
PRINCE ALI BIN AL HUSSEIN: 39, FIFA executive from 2011.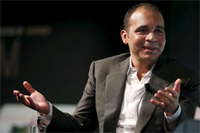 Prince Ali first challenged Sepp Blatter for the presidency this year. He has repeatedly demanded greater transparency within FIFA and promised to increase the share of revenues sent back to the national associations.
MICHEL PLATINI: 60, French soccer legend, UEFA president since 2007.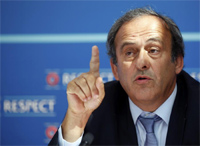 Platini was co-chairman of France's 1998 World Cup organization and has been re-elected UEFA president twice. He was given a 90-day suspension during FIFA's investigation into a 1.8 million euro payment from the world body without a written contract.
JEROME CHAMPAGNE: 57, former French diplomat and FIFA deputy secretary general until 2010.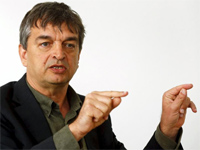 Champagne joined FIFA in 1999. He tried to challenge Blatter for presidency this year but failed to get the required five signatures from national associations to enter.
DAVID NAKHID: 51, former captain of Trinidad and Tobagao.
Nakhid also played club football with Grasshoppers in Switzerland, Waregem in Belgium and New England Revolution in the United States. His main administrative post has been running his own chain of football academies.
TOKYO SEXWALE: 62, South African anti-apartheid campaigner, member of South Africa's 2010 World Cup bid team.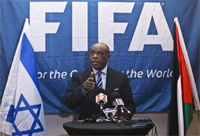 Sexwale was jailed alongside Nelson Mandela. He served 13 years of an 18-year jail term on Robben Island on terrorism charges. He is also a FIFA media committee member.
SHAIKH SALMAN BIN BRAHIM AL KHALIFA: Asian Football Confederation president since 2013.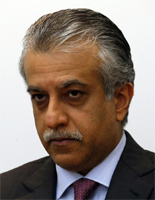 This year, Shaikh Salman was re-elected unopposed for a full, four-year term and became a FIFA vice president.
GIANNI INFANTINO, 45, Swiss lawyer, UEFA general secretary general since 2009.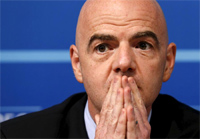 Infantino's original role was to deal with legal, commercial and professional football matters. He was subsequently appointed as director of legal affairs and club licensing division in 2004. He worked on fostering close contacts with the European Union, the Council of Europe and governmental authorities.
MUSA BILITY, 48, president of the Liberian Football Association.
He is one of a select band of Africans to stand for the presidency following current acting FIFA head Issa Hayatou in 2002, and Sexwale this time around.