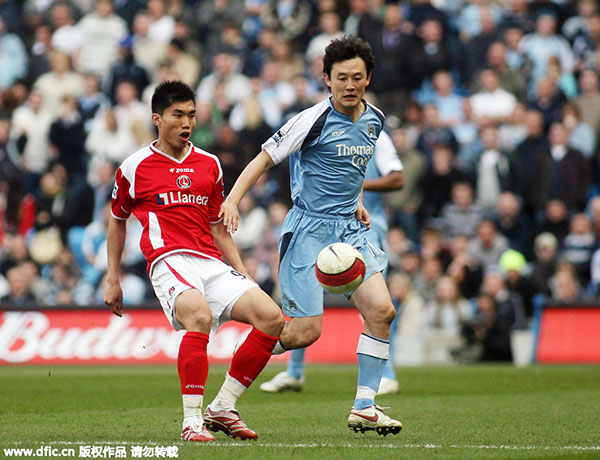 The Chinese derby: Zheng Zhi of Charlton Athletic and Jihai Sun of Manchester City fight for the ball in a Premier League match at City of Manchester Stadium in Manchester in this April 6, 2007 file photo. [Photo/IC]
For Chinese soccer fans, the Premier League is one of the most entertaining to watch. The popularity of the top-flight competition, known for head-to-head derbies, big-name players, free-spending clubs and showy WAGs, is self-evident in China, although currently not a single Chinese player is anywhere to be seen.
A decade ago, it was another story. Apart from rooting for universally-known elites such as Wayne Rooney, Steven Gerrard and John Terry, Chinese fans could still find their countrymen, even though in an almost negligible minority, to follow.
It was, and remains, considered a prerogative for Chinese footballers to play in a top-flight European league, which is believed to be more progressive than its Asian counterparts. For those not admitted to the Premier League, the lower-level divisions in England became their choice.
Chinese who set off on an adventure to Britain varied in performance. Some adapted well, while others lost themselves. However unlike other foreign employees, the Chinese as a whole didn't impress as they had never produced phenomenal talents like Didier Drogba (Coate d'Ivoire), Cesc Fabregas (Spain) and Sergio Aguero (Argentina).
Here are some Chinese players to have had British experience.