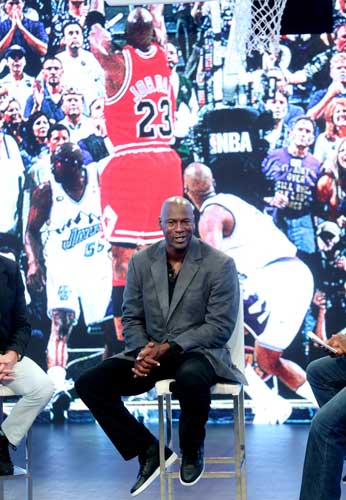 Michael Jordan attends a sports brand event in Shanghai, Oct 12, 2015. [Photo/Xinhua] 
All-time great still a fan favorite a dozen years after retirement
NBA icon Michael Jordan is impressed by the game's rapid growth in China, where his star continues to shine 12 years after his retirement.
The first time Jordan visited China, in 2004, his entourage had to confine him to his Beijing hotel room after overenthusiastic fans mobbed an outdoor court where he was supposed to make an appearance.
More than a decade later, Chinese fans' worship of the 52-year-old owner of the Charlotte Hornets remains rock solid as 'His Airness' sparked massive crowds and media scrums everywhere he appeared during the NBA Global Games China tour.
"It is always great for me to be able to come back to China. I want them (the Chinese fans) to know that their support is much appreciated," Jordan said before the Hornets' second preseason game on the tour against the Los Angeles Clippers in Shanghai on Wednesday night.
Jordan's popularity in China was there for all to see when 17,000 fans packed the stadium in Shenzhen last Saturday for the first game on the tour.
They erupted when he arrived at courtside midway through that first game.
"Man, I thought I was very famous in China until 'MJ' made his way to the court. He seems just like a god," said Hornets' Chinese-American guard Jeremy Lin.
The passion for the game in China continues to impress Jordan, who won six NBA titles in his prime with the Chicago Bulls during the 1990s.
"I'm always enthusiastic to come here and see the fans and how they support the NBA," he said.