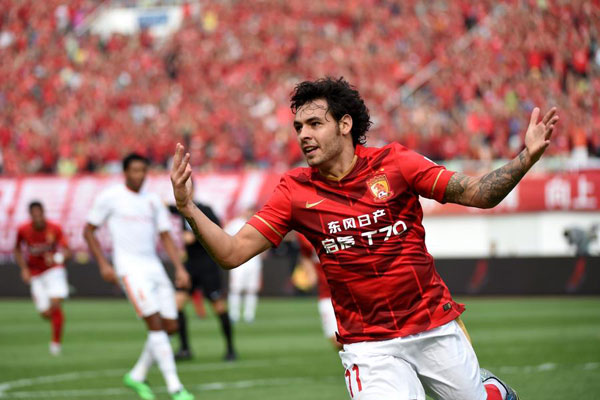 Ricardo Goulart of Guangzhou Evergrande Taobao celebrates after scoring against Shandong Luneng in a Chinese Super League (CSL) game on Oct 25, 2015.[Photo/Xinhua]
BEIJING -- The Chinese top-flight soccer league has sold its five-year (2016-2020) television rights for a record 8 billion yuan (about $1.25 billion).
Ti'ao Dongli, a Beijing-based company specializing in sports events broadcast, signed the contract with the Chinese Super League (CSL) in a ceremony on Wednesday, after winning the bid last month.
"It's a historical day. It boosts our confidence to build CSL into one of the top leagues in the world," said Zhang Jian, vice-chairman of Chinese Football Association (CFA).
The TV rights for the 2015 season fetched only 60 million yuan.
In partnership with the Chinese professional league for 13 years, Ti'ao Dongli has helped in producing public television signals for more than 3,500 matches.
Ti'ao Dongli's deal also included TV rights of matches by the Chinese men's and women's teams in 2015.
"We got all media rights for CSL, not only because we offered the highest price, but also we have long-term corporation with Chinese football and have accumulated experience in this area," said Zhao Jun, manager of the company.
Ti'ao Dongli won the bid unchallenged last month, with its offer twice as much as China Central Television's.
"Our focus for next five years is how to improve the broadcasting quality of CSL. Starting from next season, all of the 240 matches will be produced in line with a new standard. We will work harder to catch up the top leagues in the world," said Zhao.
The 2015 season opened in the wake of an ambitious reform plan approved by the Chinese government to raise the standard of Chinese soccer. To prepare for this season, big clubs went on a shopping spree to sign top players, mainly from South America.
According to the statistics released by Germany's Transfer Market when the Chinese winter transfer window closed, the Super League spent a record 108 million euros to buy players and coaches on the 2014/2015 transfer market. It stands only second to the English Premier League in terms of the money spent on transfers.