Merkel expected to hang on to power despite 'political earthquake'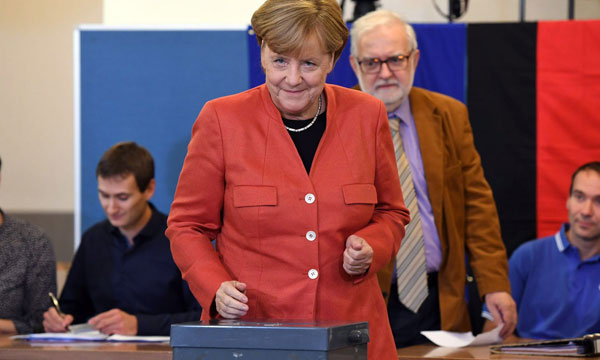 German Chancellor Angela Merkel casts her vote in Berlin, Germany, on Sunday. Merkel is widely expected to win a fourth term in office as Germans go to the polls to elect a new parliament. Matthias Schrader / AP
The latest exit polls from the German national election suggest Angela Merkel will win a fourth term as chancellor, but her Christian Democrats (CDU/CSU) party is expected to lose many seats after the nationalist party AfD performed strongly.
Exit poll predictions from public broadcaster ARD/infratest-dmap conducted on Sunday give the CDU/CSU the largest portion of the vote, with 33.5 percent. The party's closest rivals, the Social Democrats (SPD), which is led by Martin Schulz, looks to have secured just 20 percent of the vote, according to the poll. It would be a post-war low for the center-left party.
The poll suggests AfD, which has never before had a presence in the German parliament, captured 13.5 percent of the vote in what analysts have said would be a shocking result.
AfD's leader, Frauke Petry, wrote on Twitter that the "impossible had come true" and that Germany had experienced a "political earthquake".
The FDP is expected to have won 10.5 percent, the Greens 9.5 percent, and Die Linke (The Left), 9 percent, according to the poll.