Macron confident of 'posted' workers deal after meeting Romanian president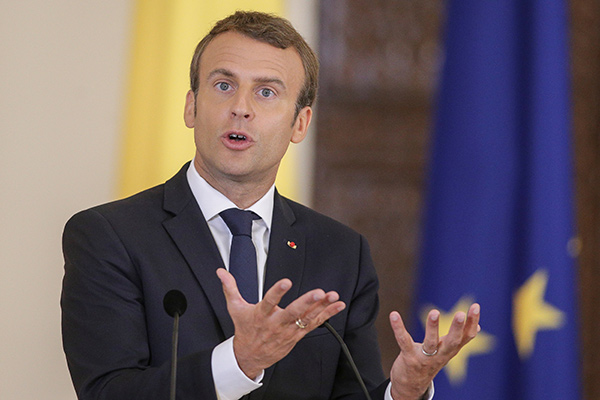 French President Emmanuel Macron gestures while answering a question from the media during a joint news conference with his Romanian counterpart, on the French president's three-day tour of central and eastern Europe, in Bucharest, Romania August 24, 2017. [Photo/Agencies]
BUCHAREST - French President Emmanuel Macron got lukewarm support from Romania on Thursday for his push to tighten EU rules over the employment abroad of workersfrom low-pay countries, but enough for him to express confidence of a deal by year-end.
Romanian President Klaus Iohannis said the concerns of countries in the east needed addressing, as well as those of the west, but gave no details on what he would deem acceptable after meeting Macron.
Macron wants to overhaul a system which allows "posted" workers to work in other European Union countries on contracts that need only guarantee the host country's minimum wage, and allow taxes and social charges to be paid in the home nation.
He says the system creates unfair competition in wealthier nations like France and Germany.
"I'm convinced we can reach an agreement before the end of the year," Macron told a joint news conference.
Although "posted" workers make up only 1 percent of the EU workforce, the politically sensitive issue, which in recentyears has deepened the divide between the rich west and pooreast, is a first step in the French leader's drive to re-shape Europe.
"It is very important to avoid useless simplification,"Iohannis said. "On the one hand, there is discontent in Franceover undeclared workers, on the other hand there are many people in Eastern Europe, in Romania, who want to work in France, Germany, Spain.
"It is clear the directive needs to be improved."
On Wednesday, Macron won the backing of Slovakia and the Czech Republic, scoring a symbolic victory over the eurosceptic governments of Poland and Hungary which have led efforts in the region to block reform of the labor directive.
Macron told Iohannis he was open to Romania joining Europe's open-borders Schengen group and said it was in the eastern European country's interest to be a part of a more deeply integrated Europe.
Failure to reform the EU would threaten the bloc's future.
"Part of Britain's Brexit vote was down to the poor functioning of the single market on posted worker rules, and the rules we have on social rights," Macron said.