Seamless trade arrangement with EU outlined in Britain's 1st major Brexit proposal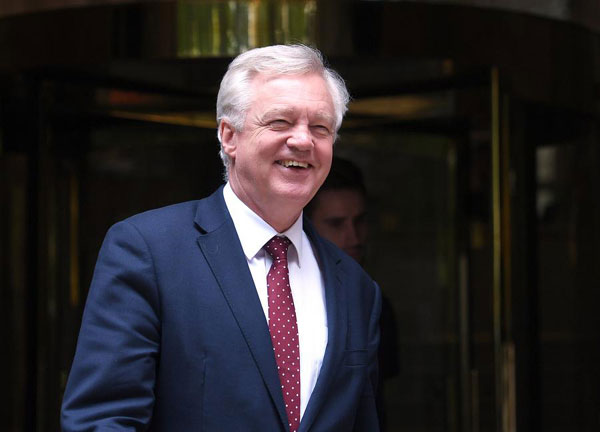 Brexit Secretary David Davis leaves a television studio in central London, Britain August 15, 2017. [Photo/Agencies]
LONDON - The British government on Tuesday unveiled a blueprint setting out Britain's future customs relationship with the European Union (EU), the first in a series of official document to outline the government's Brexit strategy.
The paper puts forward a transitional customs arrangement between the United Kingdom (UK) and the EU, with customs requirements as frictionless as possible.
Although the paper does not indicate how long an interim arrangement will last for, British Brexit secretary David Davis told media here Tuesday that it would continue for two-years or less.
The proposal has to be agreed by the EU.
The British Department for Exiting the EU (DExEU) said the aim of the proposal is to continue some of the existing arrangements Britain already has with the EU.
It would, said DExEU, reduce or remove barriers to trade through new arrangements, and adopt technology-based solutions to make it easier for businesses to comply with customs procedures.
Britain is scheduled to leave the EU in March 2019 when it will cease to be a member of the European Single Market and the European Customs Union which allows tariff-free flow of goods throughout the 500-million population trading bloc.
Last year, British imports and exports from the EU totalled some 718 billion USdollars, said a government spokesman.
DExEU said a new customs partnership with the EU, by aligning Britain's approach to the customs border, would remove the need for a UK-EU customs border.
One potential approach, the official statement said, would involve Britain mirroring the EU's requirements for imports from the rest of the world where the final destination is the EU.
The paper published by the government is the first major proposal by Britain on its future trading relationship with the EU.
It is also the first of a series of papers on Britain's future partnership with the EU.
The first paper also sets out new details on an interim period with the EU. The proposed model, which would mean close association with the EU customs union for a time-limited period, would ensure that UK businesses only have to adjust once to a new customs relationship.
This would minimize disruption and offering business a smooth and orderly transition, said DExEU.