Macron confident of 'posted' workers deal after meeting Romanian president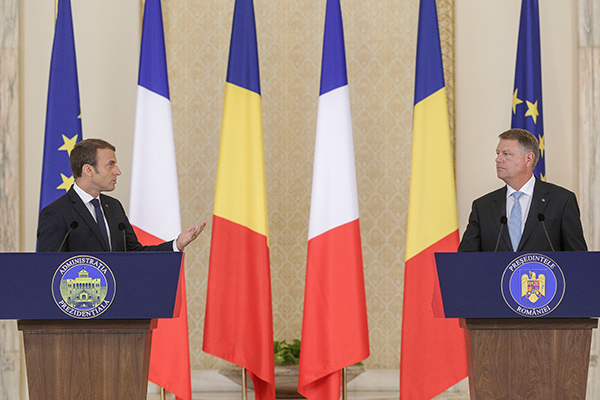 French President Emmanuel Macron gestures while delivering a speech during a joint news conference with his Romanian counterpart, Klaus Iohannis, on the French president's three-day tour of central and eastern Europe, in Bucharest, Romania August 24, 2017. [Photo/Agencies]
CENTRAL EUROPE DIVIDE
Macron's election win revived the EU's Franco-German axis but in central and eastern Europe it fanned fears of a"multi-speed" Europe that could mean reduced influence,financial support and economic competitiveness.
Macron signalled on Wednesday that those countries which rallied behind his push for deeper integration would have their place at the negotiation table.
Some leaders have made clear they don't want to be left out.
"In Salzburg, I declared the strong interest of the CzechRepublic to be present at the discussion about the future of Europe and also to influence it," Czech Prime Minister Bohuslav Sobotka said on Twitter after meeting Macron.
Sobotka's government has floated a plan to gain euro zone observer status, a further sign it does not want to beside lined.
Meanwhile Slovakia's Prime Minister Robert Fico, who once said Brussels bureaucrats were "detached from reality", has warmed towards the EU after Britain's Brexit vote and Macron's election.
He now says he wants Slovakia's future to lie "close to the (EU) core, close to France, close to Germany."
Slovakia and Czech Republic's re-positioning closer to the heart of Europe leaves Poland and Hungary -- both of which Macron is shunning on his trip -- appearing increasingly isolated. The four countries make up the Visegrad 4 group.Polish and Hungarian officials sought to downplay any divide.
"The Visegrad members differ on some issues and present diverse positions," said Ryszard Czarnecki, a deputy speaker inthe European Parliament from Poland's ruling Law and Justice (PiS) party: "Let's not fall into hysterics. The Visegrad group works together on the most important cases."
An eventual new directive on posted workers will be decidedby a majority vote, rather than unanimity. Even if the Visegrad4, Romania and Bulgaria joined forces, they could not block iton their own, according to Reuters calculations.
Reuters