London police to trial facial recognition technology at famous street festival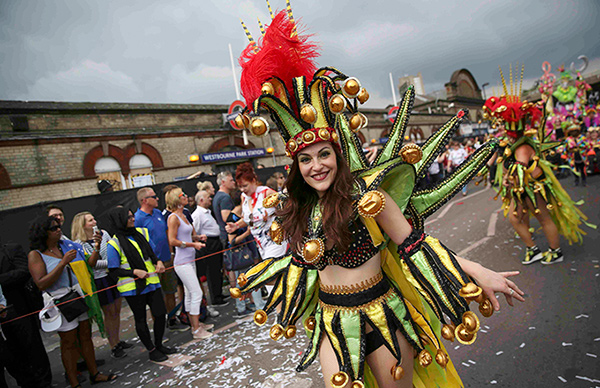 Performers participate in the parade at the Notting Hill Carnival in London, Britain August 29, 2016. [Photo/Agencies]
LONDON - The biggest ever trial in Britain of facial recognition technology is to take place this weekend at London's Notting Hill Carnival, said London police Thursday.
The two-day event draws about a million people, making it one of the world's biggest street festivals.
The official Biometrics Commissioner Paul Wiles said Thursday he aims to monitor and evaluate the way London's Metropolitan Police use the biometric technology at the event."This kind of biometric technology has the potential to be a really useful crime fighting tool but we are not there yet. It needs to be properly tested and evaluated if it is going to be effective and it will need to be handled carefully by the police and the government if it is going to be trusted by the public," he said.
The commissioner said police in Britain already hold over 20 million facial images but there is as yet no single, shared policing system for storing and searching police held images, nor an evaluation of its accuracy and usefulness.
In a statement, the Met said the technology involves the use of overt cameras which scan the faces of those passing by and flag up potential matches against a database of custody images. The database will be populated with images of individuals who are forbidden from attending carnival, as well as individuals on the police wanted-list.
Wiles added: "There is a public benefit in the use of such technology if it can be shown to help prevent the problems that there have been at previous carnivals by assisting the police to catch offenders or prevent crime."
He said tests of facial matching for spotting individuals in large crowds have so far had very poor success.
Police forces need to work together, he added, to agree on a single facial recognition system that has been proved to work in the field and government needs to create a legislative framework for its use. There should also be an independent oversight to provide public assurance, as it has done for DNA and fingerprints, he said.
Wiles said current police interest in facial matching has moved on from custody images to whether it can be used to identify individual offenders in public places.
"Facial matching systems have improved significantly recently and the use being explored by the Metropolitan Police may, at some point, reach acceptable quality for operational use but presently that remains to be demonstrated," the commissioner said.
He concluded: "The use of facial images, especially in public places, is very intrusive of individual freedom, especially because images can be captured without the subject being aware. The public benefit of the use of such an intrusive technology must outweigh the interference in individual privacy. Such a difficult balance between public benefit and individual privacy should not be decided by the police but is best decided by Parliament through informed debate and legislation."
Earlier this week the Met said it had arrested almost 300 people ahead of the carnival, a pan-London response to violence and knife crime. The operation led to 190 knives and 18 firearms being recovered.
Civil rights campaigners have been critical of the plan, with Martha Spurrier, director of national campaign group Liberty saying in the Guardian newspaper:"This intrusive biometric surveillance has no place at the Notting Hill carnival. There is no basis in law for facial recognition, no transparency around its use and we've had no public or parliamentary debate about whether this technology could ever be lawful in a democracy."