Brexit chiefs to put forward ambitious plan for data protection between EU, Britain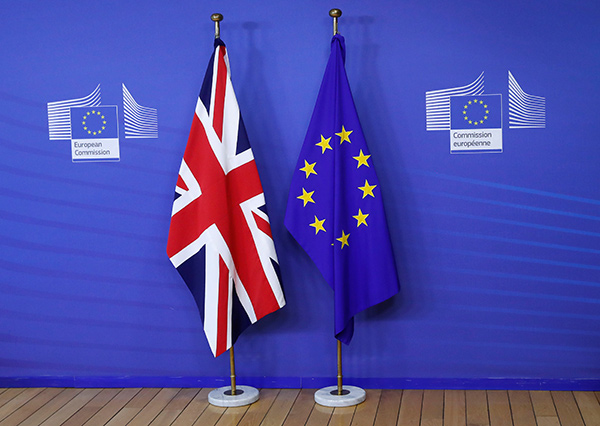 Flags are seen at the EU Commission headquarters ahead of a first full round of talks on Brexit, Britain's divorce terms from the European Union, in Brussels, Belgium, July 17, 2017. [Photo/Agencies]
LONDON - The British government's latest position paper on its Brexit proposals will on Thursday outline ambitious proposals so personal data can be shared between the Britain and the European Union (EU) after Brexit.
The aim of the proposals will be to chart a way for data to be exchanged in the future in a safe and properly regulated way.
The latest of the series of papers looking at Britain's future partnership with the EU after Brexit details the case for a model for exchanging and protecting personal data which would be in the interests of consumers, businesses and public authorities.
Britain's proposed model for the protection and exchange of personal data will reflect the unprecedented alignment between British and European law.
It will recognize that the high data protection standards will be in place at the point of Britain's exit, planned for March, 2019.
The Data Protection Bill, which is due to be laid before the British Parliament in the fall, will implement the European Union's new data protection rules, helping Britain prepare for a successful Brexit.
Britain's Department for Exiting the European Union (DExEu) said Wednesday the EU data economy was estimated to be worth more than $320 billion in 2015, with Britain a major contributor to this.
Officials in Britain say it is thought that 43 percent of all large EU digital companies are started in Britain and 75 percent of British cross border data flows are with EU countries.
Brexit negotiators in London say this means that avoiding any disruption to cross border data flows is in the interest of both Britain and EU.
Britain's Minister for Digital Matt Hancock said: "In the modern world, data flows increasingly underpin trade, business and all relationships. We want the secure flow of data to be unhindered in the future as we leave the EU.
"A strong future data relationship between the UK and EU, based on aligned data protection rules, is in our mutual interest.
"The UK is leading the way on modern data protection laws and we have worked closely with our EU partners to develop world leading data protection standards. Our goal is to combine strong privacy rules with a relationship that allows flexibility, to give consumers and businesses certainty in their use of data."