Chinese joker's coin gag wins top award
A British-born Chinese comedian has scooped the prize for the best joke on the comedy circuit at this year's Edinburgh Fringe Festival.
Ken Cheng's one-liner about the UK's recent currency upgrade - "I'm not a fan of the new pound coin, but then again, I hate all change" - bagged him first prize in the tenth annual Dave's Funniest Joke of The Fringe competition, organized by entertainment channel Dave.
It was on a shortlist of jokes selected by a panel of 10 comedy critics. The winner was anonymously voted on by 2,000 members of the public.
Cheng's joke, which he said he came up with when the British government announced plans for the new 12-sided pound coin in 2014, earned 33 percent of the vote, besting entries from British comedy heavyweights including Frankie Boyle and Tim Vine.
"The Joke of The Fringe award is such a prestigious thing," Cheng, 28, said. "I was just very honored to be on the list, it's good company to be in."
His festival set - Ken Cheng: Chinese Comedian - was the comedian's debut at Edinburgh.
Up-and-coming comedians spend much of the year preparing for Edinburgh, where they hope to catch the eye of television executives who mine the Fringe for new talent.
"I hope people come to see my show because of (the award)," Cheng said. "I am very proud of the show, it's something different."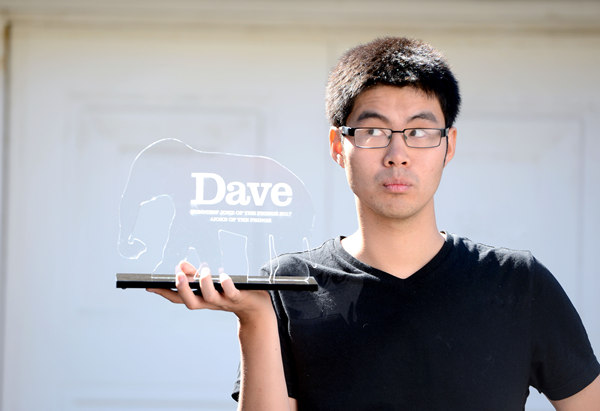 "I'm not a fan of the new pound coin, but then again, I hate all change." Ken Cheng, comedian
Cheng, who grew up and studied in Cambridge, described his sets as "funny TED Talks" that have little practical value. He uses logic and wit to dismantle words and phrases, uncovering the absurd in everyday speech.
Cheng - whose parents are both Chinese - said that while his sets don't regularly draw from his ethnic identity, being viewed as different to his peers has influenced his work.
"I was a bit of an outsider, not in a bad way, but I didn't feel like I needed to be like everyone else," he said. "Often that's where people's humor comes from - being different."
Cheng studied mathematics at Cambridge University in 2007, before dropping out to pursue a career as a poker player. He first performed stand-up at the city's local comedy club and was also a member of Footlights, the university's drama group that counts Stephen Fry and members of Monty Python among its alumni.
His breakthrough onto the British comedy scene came in 2015 when he reached the final of the BBC New Comedy Award. His six-minute set - a deconstruction of the proverb "kill two birds with one stone" - amassed more than half a million views on YouTube.
angus@mail.chinadailyuk.com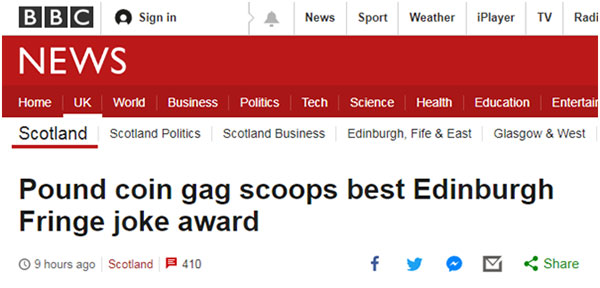 (From top to bottom) Screenshots from BBC, the Guardian and Mirror show British media's report on Ken Cheng's joke.