US Navy leaders urged to do better amid deadly ship collisions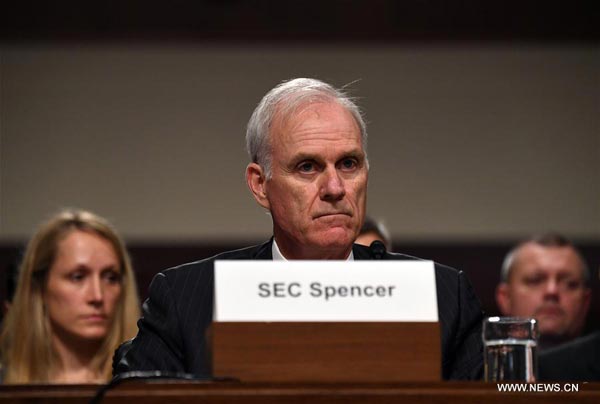 US Navy Secretary Richard Spencer (C) testifies during a hearing on recent US Navy incidents before Senate Armed Services Committee on Capitol in Washington D.C., the United States, Sept 19, 2017. [Photo/Xinhua]
WASHINGTON - Top leaders of the US Navy were urged to do better on Tuesday as they appeared before a Senate hearing over a series of deadly ship collisions involving the Pacific fleet.
"We must also call you to task and demand answers. As leaders of our Navy, you must do better," Senator John McCain, head of the Senate Armed Services Committee, told Navy Secretary Richard Spencer and Chief of Naval Operations Admiral John Richardson.
The hearing was held in the wake of several Navy ship collisions, including one in August in which USS John S. McCain, a guided-missile destroyer, collided with an oil and chemical tanker near Singapore, leaving 10 US sailors dead and five injured.
The highly-publicized incident came after seven sailors were killed when the USS Fitzgerald, also a guided-missile destroyer, and a container ship collided off the coast of Japan in June, along with two other non-deadly collisions involving the Navy vessels also this year.
McCain said those incidents are "preventable" but now it will cost an estimate of 600 million US dollars for repairs.
"It is simply unacceptable for US Navy ships to run aground or collide with other ships," the Republican senator said. "To have four such incidents in the span of seven months is truly alarming."
Richardson told the hearing that the Navy was conducting reviews and probes, while blaming the incidents on "the corrosive confluence of high operational tempo, inadequate budgets and budget uncertainty."
"But make no mistake, sir, while these factors do exert a negative force on the challenges we face, at the core, this issue is about leadership, especially command," Richardson said.