At least 35 killed in Saudi-led airstrike on hotel in Yemen's capital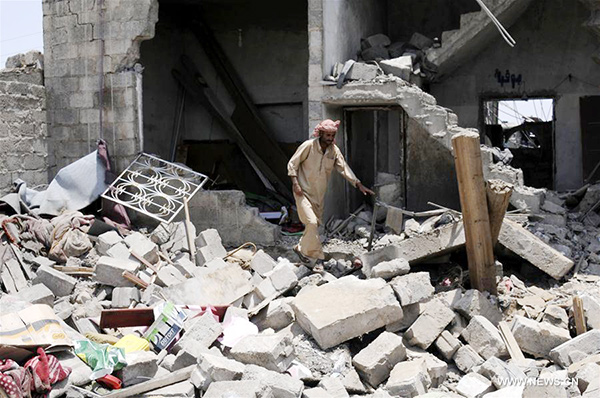 A man walks near a house after airstrike in Sanaa, Yemen on Aug 23, 2017. [Photo/Xinhua]
SANAA - At least 35 people were killed when Saudi-led coalition warplanes hit a hotel north of the capital Sanaa early on Wednesday morning, a security official and medics told Xinhua.
The hotel locates in Bait al-Edhari area of Arhab district north of Sanaa, said the official. Medics and rescuers said they have pulled 35 bodies, from underneath of rubble as search for possible survivors is still ongoing.
The dead were all men, said the medics.
This is the latest of a series of airstrikes hitting Yemeni civilians since the civil war began in March 2015.
Earlier this month, nine civilians from two families were killed in airstrikes by Saudi-led coalition in Yemen's northern province of Saada, according to local residents and officials.
Last month, the coalition fighter jets hit a camp of internally displaced persons (IDPs) in Mawza district in the southern province of Taiz, killing a total of 20 people, mostly women and children.
The United Nations refugee agency strongly condemned the July 18 aerial attacks on the IDPs camp and said that it is "deeply shocked and saddened."
It said the victims were reported to have been displaced to Mawza from nearby Al Mokha district, which is also experiencing intensified hostilities.
In March 2015, Saudi-led coalition intervened in the Yemeni conflict to back internationally recognized government of President Abd-Rabbu Mansour Hadi against Iranian-backed Houthis, who invaded the capital Sanaa militarily and seized most of the northern Yemeni provinces.
More than 10,000 people, mostly civilians, have been killed in the war that also displaced over 3 million, according to UN agencies.
The country has also been hit by a deadly cholera outbreak and is on the edge of famine.