Erdogan says Turkey unease over US support for YPG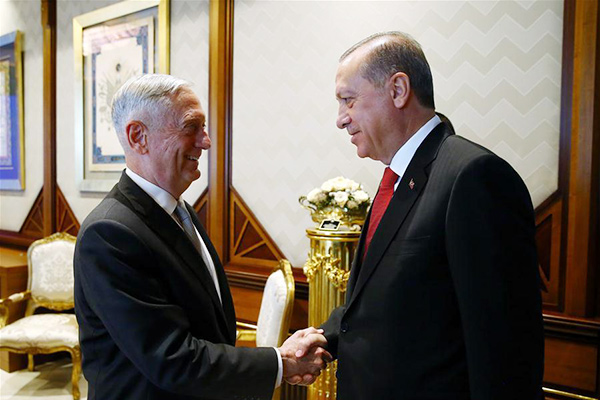 Turkish President Tayyip Erdogan (R) shakes hands with US Defense Secretary Jim Mattis during their meeting at the Presidential Palace in Ankara, Turkey, on Aug 23, 2017. [Photo/Xinhua]
ANKARA - President Recep Tayyip Erdogan expressed Turkey's unease over US support to the Syrian Kurdish People's Protection Units (YPG) during his meeting with US Defense Secretary Jim Mattis on Wednesday.
During their meeting in capital Ankara, Erdogan and Mattis discussed bilateral and regional issues, according to Anadolu Agency, citing a presidential source.
The discussion included US support to the YPG and Turkey's possible military operation against the YPG in Syria. Erdogan stressed Turkey's unease with the US support for the Syrian Democratic Unity Party military group, to which YPG is aligned, and the alleged Syrian affiliate of the outlawed Kurdistan Worker's Party (PKK).
Erdogan and Mattis emphasized the importance of maintaining the territorial integrity of Syria and Iraq, as Kurdish northern Iraq gears up for an independence referendum in September.
The two sides also reiterated their determination to fight against PKK and Islamic State in the region, the source said.
During his visit, Mattis also separately met his Turkish counterpart Nurettin Canikli.
Mattis's visit comes after Iranian Chief of Staff Gen. Mohammad Hossein Bagheri visited Ankara last week to discuss with Turkish officials a joint operation against the Kurdish militants in Iran.